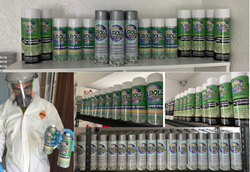 Miami Mold Specialists New Innovative Eco-Friendly Toxic Mold Killing Solutions Hit Market
MIAMI (PRWEB) December 22, 2018
Miami Mold Specialist officially launches proprietary line of organic mold cleaners, mold inhibitors, mold coatings, and mold killers- self evaporating coil cleaner, advanced organic mold cleaners, specialized aluminum and metal mold prevention coatings, and the latest line of Airbiotics all natural organic cleaners.
Miami Mold Specialists, a high tech indoor environmental service company based out of Florida, has quietly been developing and testing a number of new mold inspection and mold remediation equipment and organic based mold killing and mold prevention products.
The recent addition of Miami Mold Specialists new proprietary line of mold eradication products is a major achievement in the bio-chemical product development space for the company. Miami Mold Specialists are already extremely pro-active with developing, testing, and implementing the latest equipment technological advancements within the indoor environmental and mold remediation industries. However, creating bio-chemical based products, testing, and approval processes are an entirely different development cycle when compared to the likes of equipment development, testing, and approval processes.
With toxic mold concerns, issues, and lawsuits gaining more and more in popularity, it seems the ever expanding and evolving team at Miami Mold Specialist understands the markets desires- a powerful, safe, eco-friendly, non-VOC to low VOC products that even the professionals use themselves.
"We are pleased to finally be able to officially introduce our own complete proprietary line of mold killing, inhibiting, and preventative solutions to market. After months of testing and tweaking, the time has come to notify the public about Miami Mold Specialist's new products, battle tested and used daily by each of our mold removal crews. We will soon be releasing our new products to retail outlets and major chains, stay tuned!", stated Marty Katz, chief indoor environmentalist at Miami Mold Specialists.
For more information about Miami Mold Specialist's new line of  proprietary mold solutions, visit-
https://www.miamimoldspecialists.com/new-organic-product-line
About Miami Mold Specialist:
South Florida's Premier Indoor Air Quality, Environmental Services, and Mold Removal Service Provider- Miami Mold Specialist: High Tech and Eco Friendly Indoor Air Quality, Mold Assessments and Environmental Consulting, 3rd Party "Conflict Free" Mold Testing, Mold Removal and Mold Remediation, Mold Prevention, Radon Testing, Water Damage Control, and Water Protection and Purification Services by Miami Mold Specialist.
Multi Certified, Licensed, Bonded, and Insured. Over 30 Years Experience!
Call- 1-305-763-8070