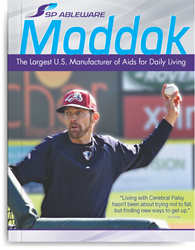 WAYNE, N.J. (PRWEB) June 06, 2019
A new, 2019 interactive e-catalog from SP Ableware - Maddak offers a user-friendly interface for exploring products that aid people in successfully performing activities of daily living. Available online and in pdf format, it includes direct links to individual product pages on http://www.maddak.com, making shopping easy, as well as internal links for easy navigation throughout its 108 pages.
Clickable, interactive features include:

Category Titles in Table of Contents: Jump directly to the beginning of the category section
Home Button: Jumps back to Table of Contents (located to the left of the catalog page #)
Catalog Numbers: Link directly to product pages on maddak.com
Underlined Text: Links directly to referenced resources or jump to referenced catalog pages
"SP Ableware's latest catalog is designed to provide a unique shopping experience with a direct connection to the website for a more robust set of product information, including product videos," says Carolyn Dorfman, Product Marketing Associate, SP Ableware – Maddak. "The new format is easy to digitally share or download, making it a valuable resource for end users and health professionals alike."
Featuring a wide assortment of over 400 daily living aids, the catalog is comprised of 16 different categories for activities of daily living; including bath safety, personal care, eating/drinking, and more. Also offered are a variety of cognitive functional assessments and therapy tools, including the recently introduced Cognitive Performance Test (CPT), to help Occupational Therapists evaluate the needs of patients and develop individualized care plans.
In keeping with the tradition of past Maddak catalogs to celebrate those who have pushed beyond their perceived limits, the 2019 cover features Fox Beyer. Despite being born with Cerebral Palsy and a 25% chance of survival, he overcame mobility challenges to do what he loves most – play baseball. His impressive portfolio of accomplishments includes playing on his high school Varsity baseball team and publishing a book of his poetry. He was also a speaker at TedX Hickory 2017 where he gave candid accounts of what life has been like growing up, living and working with Cerebral Palsy. Read the full story on the inside front cover.
Visit http://www.maddak.com/ecatalogs to access the new interactive e-catalog and discover SP Ableware – Maddak's innovative products for independent living.
About SP Ableware - Maddak
SP Ableware - Maddak manufactures products that simplify the tasks of daily living -eating, drinking, dressing, grooming, bathing, toileting, etcetera- for seniors, people with disabilities, and people undergoing rehabilitation. The company mission is to provide quality products that enable people to maximize their independence and remain active despite any limitations they may face. Marketed under the Maddak brand name, the product line includes over 500 products sold through medical and hospital supply centers, pharmacies, home care centers and internet outlets. Headquartered in Wayne, NJ, SP Ableware is the largest U.S. manufacturer of assistive devices, clinical modalities, home healthcare, and rehabilitation products. For more information visit http://www.spableware.com.