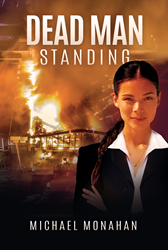 I hope people are entertained by the book and enjoy a few surprises along the way.
VIRGINIA BEACH, Va. (PRWEB) November 15, 2020
Michael Monahan's book Dead Man Standing ($17.99, paperback, 9781631297656; $4.99, e-book, 9781631297663) is available for purchase.
In Dead Man Standing, the Colonel has a plan to get revenge on America for killing his father and brothers in the second Iraqi war. At the Agency, a young Marine veteran, Magdalene (Maggie) Vasquez, is working as an analyst and has spotted unusual activity in the Middle East but is having difficulties in putting the pieces together. She reports these activities to her boss, who agrees that her findings may be important, but others in the agency questions her conclusions. As she proves one finding after another, the doubts continue.
The Colonel has recruited nine Americans fighting in Syria and Iraq to sneak back into America and start planting bombs in nine American cities during the Christmas season. While American public and law enforcement is frustrated and focused on stopping these nine the Colonel has set in motion his real revenge on America. Maggie is on his trail, but a step behind.
"I hope people are entertained by the book and enjoy a few surprises along the way," said Monahan.
Michael Monahan is an adventurous person with a private pilot license who has backpacked over the Presidential range in New Hampshire, the high peaks area in the Adirondacks, Yosemite, and summitted Mount Rainier and Kilimanjaro and many other lesser peaks. His work life took him first to the Federal Aviation Administration, the U. S. Coast Guard, and the Department of Homeland Security. Now in retirement he helps part-time to teach Tae-Kwon-Do as a fifth-degree black belt and holds an International Master License from the World Tae-Kwon-Do Academy, Kukkiwon, Korea.
Mill City Press, a division of Salem Media Group, is a leader in the general market division of self-publishing. Dead Man Standing is available online through amazon.com and barnesandnoble.com.