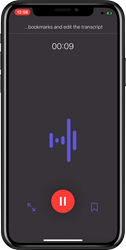 It's great that we can use AI in a way that respects privacy, and helps people get their jobs done,
AUSTIN, Texas (PRWEB) November 07, 2019
iPhone and iPad owners can now get unlimited minutes of private, editable transcription with the new app, Dictation by Blueshift.
Today (Nov. 7, 2019) Blueshift Development LLC, a company out of Austin, Texas, launched its app with the aim of providing private, affordable transcription.
Transcription happens entirely offline in the app, using new features found in the latest software release from Apple in iOS 13.0. This means that a variety of devices can now access quality transcription that does not involve sending audio to cloud services.
The app features live transcription while recording from the app. Users can also import audio and video after the fact to get the transcript.
People can also edit the app with timestamps at every word, so that they can select text to jump to that point in the audio for an easier time refining or correcting the transcript.
"I started out my working career as a journalist," Matthew Waller, the developer behind Blueshift, said. "So I'm excited to help the trade and many others with transcription, just to get rid of some of the grunt work."
Students, business professionals, interviewers and transcription professionals can use the app to get a head start on their project.
The app continues to lead in the trend of machine learning happening on device, a position advanced by both Apple and Google.
"It's great that we can use AI in a way that respects privacy, and helps people get their jobs done," Waller said.
Google for instance, introduced offline transcription that is available only through their flagship Pixel line of phones. Dictation will be available on any device that can support iOS 13.
Companies received criticism this summer after not being explicit that their voice assistant audio could be listened to by contractors.
Additional features in Dictation include transcribing in 13 languages and dialects, bookmarking audio during recording and during editing the transcript, trimming the file, exporting audio, exporting text, dark mode, searching for a file based on text inside the transcript or title and multiple window support on iPad.
The app costs $20 per year via a renewable subscription.
The app is available at https://apps.apple.com/us/app/dictation-by-blueshift/id1474180179
People wanting to know more can learn about the app at http://www.dictationbyblueshift.com.