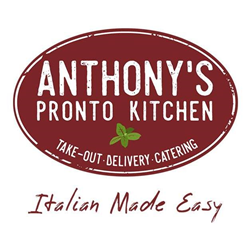 FORT LAUDERDALE, Fla. (PRWEB) April 23, 2019
Anthony's Pronto Kitchen, the Italian takeout and delivery-only eatery, now offers an array of food delivery options to consumers in east Fort Lauderdale through Uber Eats, Door Dash, Grub Hub, Delivery Dudes, as well as their in-house Pronto delivery service.
For those who aren't familiar with food delivery apps, the process is fairly easy. Consumers download one of the above-named food delivery apps, navigate to Anthony's Pronto Kitchen, place an order, and voila! Anthony's Pronto Kitchen is delivered to the requested address.
By working with a complete selection of food delivery partners, Anthony's Pronto Kitchen aims to maximize the accessibility and convenience of ordering for consumers. The tagline, "Italian made easy" sums up the concept. In addition to third party delivery services, Anthony's Pronto Kitchen has recently launched Pronto Delivery, which is free for orders over $50.00.
Anthony's Pronto was inspired by the growing demand for restaurant quality food with the convenience of in-home dining for consumers. Conveniently located in the heart of downtown Fort Lauderdale, Anthony's Pronto Kitchen is nestled in the Winn Dixie Plaza situated between Victoria Park and Flagler Village. Takeout is available for orders placed out of delivery range – ideal for consumers who want to quickly pick up high-quality Italian food enroute to a dinner party, sports tailgate, or after a long work day.
Open for lunch and dinner, the menu features appetizers, salads, sandwiches, entrees, family-style meals, desserts, party platters, and custom catering. Wine and beer are also available. Starters and sandwiches range from $8 to $12, with pastas and entrees ranging from $13 to $23. To cater to dietary restrictions, Anthony's Pronto online menu features vegetarian and "light" filters to easily find meals that fit into dietary preferences.
To place an order, visit https://www.anthonyspronto.com/, call 954-289-3685, or download Uber Eats, Door Dash, Grub Hub, Delivery Dudes available in the iPhone App store or Android Play Store.
More About Anthony's Pronto Kitchen
Anthony's Pronto Kitchen is located at 656 N Federal Hwy Fort Lauderdale, Florida 33304. Hours of operation are Monday through Thursday, 11:00 a.m. until 9:00 p.m., Friday and Saturday 11:00 a.m. – 10:00 p.m., and Sunday 11:00 a.m. – 9:00 p.m. The main telephone number is 954-289-3685. Order online or over the phone.
For media inquiries, please email Mahiza.Moore(at)exults.com.