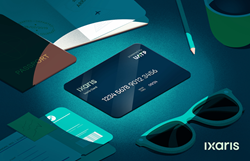 "We are excited to offer airlines and agents a more flexible and significantly lower cost payment model. Our aim at Ixaris is to optimise B2B payments from top to bottom, and this new card for airline payments supports that goal perfectly." — Mark Anthony Spiteri, COO & Acting CEO
LONDON (PRWEB) May 26, 2021
Ixaris today announces the launch of the Ixaris Card: an innovative new virtual card powered by Universal Air Travel Plan (UATP) that delivers a uniquely equitable and sustainable payment model for airlines, travel agents and online travel agencies (OTAs). While enhancing the existing advantages of virtual cards, the Ixaris Card guarantees card acceptance and significantly lowers airlines' payment costs.
Traditional card payments offer travel agents and OTAs financial incentives at the cost of eating into airlines' already razor thin margins. This has led airlines to surcharge or decline card payments, and even levy fines to OTAs, decreasing airlines' distribution options and fracturing industry relationships. The Ixaris Card removes intermediaries in the payment flow, and gives airlines control to design transparent flexible incentives for OTAs based on routes, seasonality, business volumes and more. Unlike other payment methods, acceptance is guaranteed as airlines are already wired to accept payments through the UATP network.
"We are excited about the opportunity to offer airlines and agents a more flexible and significantly lower cost payment model," comments Ixaris' COO and Acting CEO Mark Anthony Spiteri. "Our aim at Ixaris is to optimise B2B payments from top to bottom, and this new card for airline payments supports that goal perfectly."
Travel agents and OTAs can use the Ixaris Card to pay participating airlines through the Ixaris Payments virtual card platform. Airlines' funds are settled faster via daily bank transfers, while agents receive swift financial rewards for increasing airline distribution and revenue.
"UATP's mission is to make payments easier for the industry through acceptance, offerings and supplying the form of payment that customers demand," stated Ralph Kaiser, President and CEO, UATP. "By supporting the Ixaris Card, UATP is enabling further flexibility to help the industry in its rebound."
To tap into the Ixaris Card's benefits, airlines and agents enter into a mutual agreement defining incentive terms and accepted currencies. This sustainable payment model, which will strengthen the historically unbalanced relationship between airlines and agents, is registered with the IATA TIP (Transparency in Payments) programme. Early adopters of the Ixaris Card include Air Europa and Mystifly.
"We chose the Ixaris Card for its obvious cost savings, and we've already achieved that and more with improved cashflow from Ixaris' faster settlements," said Yago Casasnovas, Head of Payments & Fraud Prevention at Air Europa. "Ixaris is a key partner in Air Europa's B2B payments strategy, which focuses on achieving cost reduction through fair and flexible agreements between airlines and agents."
"B2B airline payments have been burdening airlines with new costs, and it has always been Mystifly's goal to drive a different payments model. We found an apt partner in Ixaris, which supports our goal of reducing airline payment costs and settlement time for all bookings through Mystifly's airline distribution, retailing, aggregation, fulfillment and payments platform," added Rajeev Kumar, Founder & CEO at Mystifly.
The launch of the Ixaris Card marks a key milestone in Ixaris' nearly two-decades long track record of payments innovation, and comes at an especially critical time for airlines.
"While the industry's recovery picks up steam, airlines must continue to eye innovative cost and efficiency measures as keys to long-term recovery and resiliency. The Ixaris Card is a new way to manage indirect payments that brings balance to the market and drives better collaboration, with mutually beneficial terms for the airline and agent," said John Taylor, Ixaris' Head of Airlines.
About Ixaris
Ixaris is a payment optimisation company with an extensive portfolio of Mastercard®, Visa and UATP virtual cards. From launching Europe's first virtual cards to shaping the future of airline payments, innovation is in Ixaris' DNA. Ixaris group companies are based in London and Malta.
For further information, please visit ixaris.com or follow us on LinkedIn or Twitter.
About UATP
UATP is a global payment network owned and operated by the world's airlines and accepted by thousands of merchants for air, rail and travel agency payments. UATP connects airlines to Alternative Forms of Payment which can expand reach and generate incremental sales globally. UATP offers easy-to-use data tools, DataStream® and DataMine®, which provide comprehensive account details to Issuers and corporate travel buyers for accurate travel management.