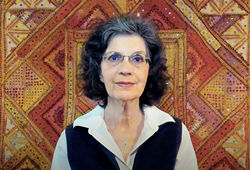 Learning to really see art can mean learning to see the whole world, every day, in new and richer ways. It doesn't take any special preparation to start the process, and the rewards grow as you explore. JENNESS CORTEZ
AVERILL PARK, N.Y. (PRWEB) July 21, 2020
Internationally acclaimed contemporary realism artist Jenness Cortez announced the launching of her new YouTube channel dedicated to "Demystifying the Masters." All the Cortez video episodes are entertaining investigations into the minds, hearts, intentions, and techniques of gifted artists, and into the intriguing details of times and places that influenced their work.
In each video episode of "Demystifying the Masters," Cortez uses one of her own paintings as her starting point. In explaining her own creation, she shares insights into the hows and whys and little-known stories about some of the world's most admired masters like Winslow Homer, John Singer Sargent, Frederic Remington, Norman Rockwell, Andy Warhol, Johannes Vermeer, Vincent Van Gogh, Jan van Eyck, Pierre-August Renoir, Camille Pissarro and Claude Monet.
But why does the world need art? Why do our communities, our families and we, ourselves, need art? Why–considering all the uncertainty and trouble in the world–does art even matter? Artist Jenness Cortez offers her explanation this way: "Learning to really see art can mean learning to see the whole world, every day, in new and richer ways. It doesn't take any special preparation to start the process, and the rewards grow as you explore."
Jenness Cortez begins her own creative process by selecting another artist's iconic painting to serve as the centerpiece of her original composition. Depending on her response to that chosen painting, the artist who created it, and the time and culture that gave birth to it, Cortez then becomes author, art director, architect, visual journalist, art historian, curator and pundit as she searches for supportive elements—such as books, photographs and clocks—to assist in telling her story.
Completion of her painting involves thousands of choices, each one determined by her highly perfected intuitive sense of what is needed. Then, when all the elements are in harmony–in service to her vision–the viewer is drawn into the picture. And it is this instantaneous seduction that leads us into exploring the hidden secrets and pleasures awaiting our discovery.
Like the Old Masters she admires, Cortez renders textures of fabric, surfaces of wood, the tactile quality of a piece of fruit, an aged piece of paper, and so on, with convincing realism. In the same way, the famous works portrayed in her compositions are appropriated with deep respect for their creators. In each short episode of "Demystifying the Masters," Jenness Cortez adds to both the viewer's understanding and appreciation of famous works by world-respected masters.
-30-
Biographical Notes:
Jenness Cortez was born in 1944 in Frankfort, Indiana. She received her B.F.A. from the Herron School of Art in Indianapolis, apprenticed privately with noted Dutch painter Antonius Raemaekers and later studied with Arnold Blanch at the Art Students League of New York. Her work is in numerous public and private collections including those of Presidents Ronald Reagan and Bill Clinton, HM Queen Elizabeth II, the Polk Museum of Art and the New York State Museum.