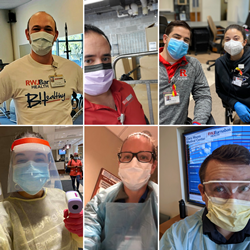 "I couldn't be more proud of the sacrifice, dedication, and adaptability our athletic training team has shown in supporting our hospital system in a variety of valuable roles," said Ryan Stevens, Manager, Athletic Training/Physical Therapy/Fitness - RWJ Somerset and RWJ Hamilton.
TRENTON, N.J. (PRWEB) May 20, 2020
Even though athletics are currently halted, New Jersey athletic trainers (ATs) remain on the front lines of healthcare. No longer only on the sidelines of an athletic event, ATs state-wide are now helping fight the COVID-19 pandemic. COVID-19 has caused an increased need for healthcare professionals and first responders - a need that athletic trainers are more than qualified to fill.
RWJBarnabas Health, has been able to repurpose their athletic training staff to help fight the COVID-19 pandemic. RWJBarnabas Health provides community-based outreach athletic training services to local secondary schools, colleges, professional athletes, performance artists, organizations, and workplaces. Currently supporting 37 athletic training partnerships across the state, RWJBH regional athletic trainers are based out of Rutgers University, RWJUH Somerset, RWJUH Hamilton, Saint Barnabas Medical Center, and Monmouth Medical Center.
Athletic trainers are pivoting to roles such as:

Staffing pool management: coordinating department/schedule/shift staffing needs to maximize the contributions of sports medicine and rehab department team members.
Hospital Command Center: centralized point person/liaison for dealing with incoming COVID-related employee questions & concerns, staffing & procedure logistics.
Supply Chain/Logistics Assistant: coordinating PPE distribution and helping address supply needs at hospitals.
Employee Screener / Temperature checks: symptom screening for all employees and non-emergency department patients/guests entering hospital, distribution of PPE.
Admin assist/front desk support: cross-trained to support hospital front desk to guide hospital visitors and coordinate various needs of non-COVID patients.
Facilities and Operations department support: support hospital facilities, operations, and security team with a variety of behind-the-scenes administrative support roles.
Transport: assist with moving transferred and discharged patients.
These essential roles allow the hospital system to continue treating patients efficiently and help flatten the curve of COVID-19.
Adapting to different situations is nothing new for athletic trainers. The 2020 National Athletic Training Month slogan "ATs Impact HealthCare Through Action" accurately describes this type of healthcare professional. Athletic trainers respond to emergencies and treat patients in hectic environments. Helping fight the COVID-19 pandemic is just another skill-set athletic trainers can add to their expertise.
In the months to come, athletic trainers will hopefully return to their athletic fields and clinics. Until then, these healthcare professionals will continue to fight the COVID-19 pandemic for the greater good of all New Jersey.
For more information about athletic trainers fighting COVID-19 visit: https://www.atsnj.org/articles/athletic-trainers-help-fight-covid-19
For more information about RWJBarnabas Health visit: https://www.rwjbh.org/