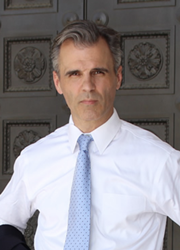 "It is a privilege to represent these clients and bring justice to this unneeded suffering and harm"
WASHINGTON CROSSING, Pa. (PRWEB) November 02, 2022
For more than a decade, Brian Murphy was known as the go-to attorney who handled nursing home cases for several New Jersey and Pennsylvania law firms. His passion for protecting the victims of these unfortunate circumstances grew with each heartbreaking story his clients would share. These legal cases inspired him to branch out on his own and represent clients exclusively for nursing home abuse and neglect. Since October 1, 2015, Brian Murphy has been running The Law Firm of Brian P. Murphy, PC.
"It is a privilege to represent these clients and bring justice to this unneeded suffering and harm," stated Murphy.
As evidenced by the law firm's five-star reviews, Mr. Murphy has made an indelible mark on an industry that prides itself on reputation and trust.
"Our 90 year old mother was hospitalized and sent to rehab afterwards. Through poor care and neglect, she developed a massive pressure wound. It was 4 hellish months and she passed 2 weeks after being released - she had nothing left. We decided to seek legal counsel.
We hired Brian P. Murphy and knew immediately that he going to get it done right. We found him to be knowledgeable; thorough; professional; available; patient; and highly skilled. He settled our case for a higher sum than we ever imagined. We whole heartedly recommend Brian P. Murphy if legal services such as this are required. FIVE STARS!!!"

"From day one, Brian's guidance, compassion and understanding helped us through a very difficult time which stirred up many sad, unpleasant and painful memories of our Mom's suffering due to lack of care.Brian responds quickly to phone calls and emails, even on evenings and weekends. Brian worked tirelessly to achieve a successful outcome; his dedication to his clients is without peer."

"I contacted Brian Murphy to initiate a lawsuit for the wrongful death of my father. Mr. Murphy was very professional, while at the same time very considerate and understanding of my grief. Throughout the entire process Mr. Murphy kept me informed, answered my questions, returned phone calls and e-mails promptly and advised and prepared me as to what to expect. My case was settled to my satisfaction due to the diligence of Mr. Murphy."

"Brian was amazing. He made such a difficult time so much easier. He was always quick at responding to emails or text messages. If I received paperwork in the mail that I was unsure what to do with he took the time to help me. If there was ever a time that I didn't understand things he was explaining pertaining to our case he never rushed me off the phone. He took his time and made sure I was always comfortable with whatever decision that needed to be made. I couldn't have asked for a better person. I honestly don't know how we would have gotten through this without him!"

"It is a privilege to represent these clients, and I sincerely appreciate the positive reviews," remarked Brian Murphy.
Brian P. Murphy, Esq. has dedicated his legal practice to 100% nursing home malpractice cases since 2006. He has obtained justice for hundreds of elderly individuals who have suffered abuse and neglect at nursing homes throughout Pennsylvania and New Jersey. His cases commonly involve pressure ulcers (bedsores), wrongful death, falls, malnutrition, dehydration and violations of nursing home residents' rights. If you or your loved one has suffered nursing home abuse or neglect, contact Mr. Murphy today. He'll take the time to listen to your concerns and determine if he can help you. All consultations are free.
About The Law Firm of Brian P. Murphy
Licensed in Pennsylvania and New Jersey, Attorney Brian P. Murphy has been at the forefront of legal efforts to hold New Jersey and Pennsylvania nursing homes accountable for negligent care since 2006. Singularly focused on cases involving nursing home abuse and neglect, Murphy has successfully represented hundreds of residents in Pennsylvania and New Jersey who have suffered injury or illness as a result of nursing home negligence. From bedsores, falls, and other injuries to malnutrition, dehydration, and wrongful death, Murphy has taken swift action against the long-term care and nursing facilities responsible and has earned significant compensation for his clients. Murphy has extensive experience identifying nursing home abuse and neglect as well as its causes such as short-staffing and other operational failures, and the efforts by some facilities to cover up wrongdoing through false charting. He has given multiple lectures and authored numerous law articles and legal guides on nursing home abuse and the effective litigation of neglect and abuse cases.
For more information, please contact Brian P. Murphy directly at (215) 579-8500, or visit http://www.thenursinghomeattorneys.com.
All personal injury cases are handled on a contingency fee basis.
___________________________________________
Press release writing by WebSiteText and Proofreading Services by The Proofreaders | Mr. Murphy recommends Ken Rosenfeld for California Mental Health Law Defense