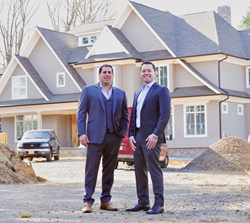 "I knew that a lot of agents wanted to do this, but they needed somebody to create a movement that provided guidance and confidence while transitioning to this new model. My partner and I decided to be that somebody."
MIDDLETOWN, N.J. (PRWEB) May 03, 2021
Christopher Walsh, along with his business partner Christian Giamanco, announced today that their real estate agency, RE/MAX The Real Estate Leaders, has joined eXp Realty, LLC, the largest residential real estate brokerage by geography in North America and the first and only real estate brokerage in all 50 states. eXp Realty, LLC is the fastest growing agency in the world and is a publicly traded company on the NYSE, which provides its members a proprietary digital media platform to interact and operate like never before, passing on advanced benefits to each of their agents and clients. The eXp Realty, LLC growth model has never been seen by the real estate industry in this fashion. Walsh and Giamanco's 80 agents will join the global eXp Realty, LLC network, significantly expanding the company's existing New Jersey footprint.
RE/MAX The Real Estate Leaders was acquired in 2008 by Christopher Walsh as a failing company, and was later joined in 2016 by fellow mega agent, Christian Giamanco, as Partner and Co-Owner. Focusing on Monmouth and Ocean Counties and the surrounding communities, they have turned the once-failing company into a booming organization responsible for the sale of nearly 10,000 residential properties since initial acquisition and has been ranked among the top one percent for overall sales volume nationwide in recent years. Just as importantly, RE/MAX The Real Estate Leaders has grown into a realty powerhouse by investing in its own agents and owns multiple RE/MAX franchises within the Monmouth/Ocean County Multiple Listing System. Walsh himself was ranked under the RE/MAX organization as #1 individual agent in New Jersey, #20 in the USA, and #36 in the world for the calendar year 2020.
With an ethos of being 100 percent committed to providing premier and quality service to every client, the Walsh/Giamanco agency has closed nearly $3 billion dollars in total sales. Clients rely on their agency not only because they provide security in every transaction, but also because of their cutting-edge approach to marketing and hands-on guidance for all properties serviced within their organization. Walsh stated, "Our agents are truly a distinguished group. We are super proud of them and their ability to navigate so well in their businesses."
The move to eXp Realty, LLC, a completely cloud-based, national real estate brokerage, highlights their groundbreaking approach to business growth. "We're always innovating and looking for the next optimal expansion opportunity," Walsh said. "Joining forces with eXp Realty, LLC allows our agents to bring this modern approach into practice alongside our strong, traditional, community-based strategies. It really is an exciting time to be a REALTOR® as we blaze our path into the future of real estate."
As with many eXp Realty, LLC broker-partners, Walsh and Giamanco will continue to operate under each of their individual brand names as agents. Their agency as a whole will convert to a Mega Icon team now brokered by eXp Realty, LLC. According to Giamanco, the move to partner with eXp Realty, LLC was precisely what he and Walsh were looking for to launch their already successful brands and agency into their next level of growth. "When I saw the model of eXp Realty, LLC and what it could bring to our agents' businesses and clients, it was clear we had to take the leap," said Giamanco.
Walsh explained, "I knew that a lot of agents wanted to do this, but they needed somebody to create a movement that provided guidance and confidence while transitioning to this new model. My partner and I decided to be that somebody. Our goal is to build the biggest and most powerful sales team within the eXp Realty, LLC network. We will be combining forces with several other broker/owners in the very near future. Stay tuned for what's next. It's going to be massive."
The Real Estate Leaders will continue operating out of their brick-and-mortar locations as a hybrid setup, with this new digital model powered by eXp Realty, LLC. As Giamanco added, "Under this new infrastructure, we now have the benefits of the newest technology to enhance both the agent and client real estate experience and ultimate versatility to be mobile and flexible at the same time."
About The Real Estate Leaders
The Real Estate Leaders, now brokered by eXp Realty, LLC is a Mega Icon Team with nearly $500,000,000 in annual sales that specializes in all aspects of New Jersey real estate, including both conventional and non-conventional transactions and caters to each client by providing custom-tailored marketing and a unique roadmap for their particular real estate needs. Areas of focus include all price range single-family and multi-family properties, condo/townhome communities, luxury home sales, waterfront properties, development projects, new construction, and investment opportunities. Agents interested in joining The Real Estate Leaders, Brokered by eXp Realty, LLC should email Join@RELeadersNJ.com or call (866)913-2815. Additionally, feel free to contact Christopher Walsh directly by visiting http://www.TheRealEstateLeader.com and Christian Giamanco directly by visiting https://www.GiamancoRealEstate.com.
About eXp Realty
eXp Realty, LLC is a full-service real estate brokerage providing 24/7 access to collaborative tools, training, and socialization for real estate brokers and agents through its 3-D, fully immersive, cloud office environment. eXp Realty, LLC, The Real Estate Cloud Brokerage, is the fastest-growing global residential real estate company, now with more than 50,000 agents in the United States, Canada, the United Kingdom, and Australia. As of December 2020, eXp Realty had experienced over 1,620% agent growth since 2016. Presently, eXp Realty, LLC is growing at a staggering rate of 2,895 agents per month. As a subsidiary of a publicly traded company, eXp Realty, LLC uniquely offers their real estate professionals opportunities to earn eXp World Holdings stock for production achievements and agents also benefit from eXp Realty, LLC's revenue share model, which has never been seen before in the real estate industry.