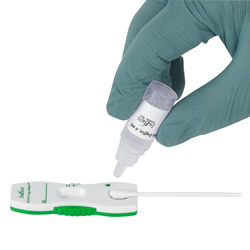 SEATTLE (PRWEB) August 22, 2021
InBios International Inc., a leading developer of diagnostic tests for emerging infectious diseases, announced today that laboratory studies suggest its SCoV-2 Ag Detect Rapid Test will detect the Delta variant (lineage B.1.617.2), which is responsible for a rapid rise of infections and deaths in the US and around the world. Initial studies suggest that InBios' point-of-care antigen test will detect the Delta variant at rates similar to the USA-WA1-2020 isolate that was used to develop the assay.
"Having a rapid test that can quickly and accurately detect the Delta variant is of utmost importance as this variant is proving to be highly transmissible and spreads swiftly," said Dr. Syamal Raychaudhuri, Chief Scientific Officer of InBios. "We're pleased that studies suggest our rapid test can be a great diagnostic tool in pinpointing the Delta variant, which is proving to be the biggest challenge right now in the fight against COVID-19."
According to the Centers for Disease Control and Prevention, the Delta variant is more infectious and is leading to increased transmissibility when compared to other variants, even in vaccinated individuals. The Delta variant, first identified in India, is now estimated to make up 86% of all sequenced COVID-19 cases in the U.S. For the first time since February, the United States is averaging more than 100,000 new COVID-19 cases a day.
InBios SCoV-2 Ag Detect Rapid Test received Emergency Use Authorization (EUA) from the U.S. Food and Drug Administration (FDA) in May 2021. Funding to achieve EUA for the SCoV-2 Ag Detect Rapid Test comes in part from a $12.7 million contract with the U.S. Army Medical Materiel Development Activity with funding provided by the Defense Health Agency (DHA) through the CARES Act and the Department of Health and Human Services (HHS) Biomedical Advanced Research and Development Authority (BARDA) awarded in 2020. The test is simple and fast – the patent-pending design features a direct nasal swab to cassette format. It requires no instrumentation or transport media step and can be performed on-site with results delivered in about 20 minutes.
This product has not been FDA cleared or approved but has been authorized by FDA under an EUA for use by authorized laboratories. This product has been authorized only for the detection of proteins from SARS-CoV-2, not for any other viruses or pathogens. The emergency use of this product is only authorized for the duration of the declaration that circumstances exist justifying the authorization of emergency use of in vitro diagnostics for detection and/or diagnosis of COVID-19 under Section 564(b)(1) of the Federal Food, Drug and Cosmetic Act, 21 U.S.C. § 360bbb-3(b)(1), unless the declaration is terminated or authorization is revoked sooner.
For more information about InBios COVID-19 tests, visit: http://www.inbios.com/covid-19/.
For more information on COVID-19, please visit http://www.cdc.gov or http://www.who.int.
About InBios: InBios International Inc. specializes in the design, development and manufacture of diagnostic assays for emerging infectious diseases and biothreats. Located in Seattle, Washington, InBios offers superior quality products which are accurate, easy to use and cost effective. InBios is GMP compliant, FDA registered, USDA licensed and ISO 13485:2016 certified. For more information, visit http://www.inbios.com