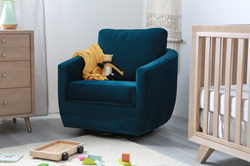 LA MIRADA, Calif. (PRWEB) October 10, 2019
Already veterans of the baby furniture industry, the minds at Karla Dubois are gearing up to launch two new pieces that will lead the company's expansion into products designed for older children and pre-teens.
The launch will feature the new Bodhi Twin Bed and the Gogh Swivel Glider chair. Both of these new products build on existing mainstays of the Karla Dubois catalog to offer something new.
The Bodhi Twin Bed is a prime example. An evolution of the popular Bodhi Toddler Bed, it takes the same playful design and scales it up to be enjoyed by kids of all ages. As well, current Bodhi Toddler Bed buyers will be able to upgrade as their child grows, confident that their new purchase will match existing decor.
"Our goal is to provide something like a continuity of style," said Karla Dubois CEO and co-founder Neill Herbert, "We want families who love our brand to feel like they can always come back to it, no matter how old their child gets."
The Gogh chair demonstrates a more subtle approach, expanding in style as much as use case. It has a swivel glider base that offers a similar utility to the company's previous nursery decor, but a new, modern design and on-trend color palette that would be just as fitting in the lounge of a metropolitan apartment as any whimsical baby room.
Growing with their customers is not just a new company line, either. The Karla Dubois catalog features many products with convertible designs, built to adapt to a family's changing needs. It seems that now the company itself is ready to evolve.
The Bodhi Toddler Bed and Gogh Swivel Glider chair will be available for purchase at wayfair.com. The Bodhi Twin Bed will be priced at $799.99 and come in Dappled Grey, Midnight Blue, Dusk Blue, and Lavender Mist color variants. The Gogh will be priced at $389.99 and come in Candy Apple, Dusty Rose, Earl Grey, Marigold, and Peacock.