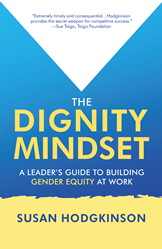 "Whatever your gender, and whether you are a CEO or an up-and-coming leader, you can use the information in this book to get the constructive conversation started and bring women and men together to pursue a shared new direction: toward a belief system that paves the way to gender balance."
BOSTON (PRWEB) September 23, 2019
Many business leaders recognize the value of gender diversity in driving innovation, creativity and profitability, yet retaining and advancing high-performing, high-potential women of all colors continue to be core challenges companies face. In her new book, "The Dignity Mindset: A Leader's Guide to Building Gender Equity at Work," leadership development expert, executive coach and founder of The Personal Brand Company Susan Hodgkinson identifies the reasons for this gender imbalance and provides high-level strategies leaders can implement to effect positive changes in company culture and organizational structure.
A culmination of years of research into the issue of gender bias in the workplace, "The Dignity Mindset" presents an insightful analysis of how the ancient gender-biased beliefs perpetuated today set businesses up for failure on inclusion long before employees ever search for their first job. The book presents a case for how the male hegemonic power myth infiltrates company culture when not constructively analyzed and outlines seven groundbreaking solutions business leaders can adapt to create an environment that recognizes the fundamental dignity of all employees and is goaled towards achieving true diversity and empathy.
"My purpose in writing this book is to share [a] roadmap with you so you can bring about transformative change in your workplace," the author wrote in the book's introduction. "Whatever your gender, and whether you are a CEO or an up-and-coming leader, you can use the information in this book to get the constructive conversation started and bring women and men together to pursue a shared new direction: toward a belief system that paves the way to gender balance."
By adopting the Dignity Mindset, business leaders can shift their culture in a positive direction and grow high-performing teams in which everyone feels valued and included. When the culture is operating from a Dignity Mindset, and women are at least 30 percent of senior leadership, the business is on track to increase net margin growth as well as innovation.
"Anyone who is responsible for the financial success of a company or the creative success of a team will benefit from Sue Hodgkinson's incisive book, 'The Dignity Mindset,'" wrote Sue Toigo, Toigo Foundation. "It's fair to say she provides the secret weapon for keeping the American economy financially competitive. This is an extremely timely and consequential 'how-to' for staying professionally relevant in virtually any field. Read 'The Dignity Mindset,' then thank me."
Geared towards CEOs, leaders and all those who recognize the strengths inclusion brings and are committed to instilling authentic values at the belief system level, "The Dignity Mindset" is a leading-edge how-to book on gender equity.
"The Dignity Mindset: A Leader's Guide to Building Gender Equity at Work"
By Susan Hodgkinson
ISBN: ISBN (9781532075162); ISBN (9781532075179); ISBN (9781532075155)
Available from Amazon, Barnes & Noble and iUniverse
About the author
Susan Hodgkinson is a leadership development expert, award-winning executive coach and author, and a sought-after speaker who works with emerging and established leaders from a wide range of industries in the U.S. and abroad. A trailblazer in personal branding, Hodgkinson founded The Personal Brand Company in 1994, fusing her long-time career in corporate marketing and branding with her proprietary leadership development model, The 5 P's of Leadership Brand.®
Review Copies & Interview Requests:
LAVIDGE – Phoenix
Leslie Standridge
480-998-2600 x 586
lstandridge(at)lavidge(dot)com