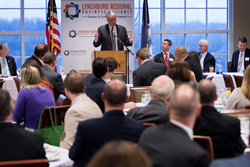 "We recognize that talent is now the currency of the new economy and Liberty University has a distinct competitive advantage in the marketplace. Employers are attracted to the university's Christian worldview and the quality of talent we produce." —Liberty University President Jerry Falwell
LYNCHBURG, Va. (PRWEB) September 10, 2018
Liberty University recently opened the Office of Outreach and Business Engagement (OBE) to oversee its business and industry partnerships and continue to build on the university's reputation of producing the most trusted marketplace talent.
Under the guidance of Jonathan Whitt, Liberty's vice president for Outreach and Business Engagement, the office will continue to connect students to career professionals for real-world experience and job opportunities. Staff will also work to increase sponsored programs (such as grants and other specified funding projects), advance entrepreneurship, create new partnerships that align with the mission of the university, and help facilitate faculty participation in these activities.
Randy Smith, Liberty's Chief Operating Officer, said that the office will strengthen longstanding business relationships and develop new ones in cooperation with departments across the university, touching every academic program.
"We understand that for many years, businesses have desired to work with Liberty University, but it was difficult to make the connection with the proper individuals. As the new 'front door' for access to our resources by businesses, the Office of Outreach and Business Engagement should make connecting easy," Smith said.
Liberty has always strived to make its graduates invaluable to employers by focusing on the employers' needs and then developing curriculum that trains students to meet those needs.
One example is Liberty's partnership with Hendrick Automotive Group, the nation's largest privately held automotive retail organization. Hendrick Automotive helped the university develop its Automotive Dealership Management program. Having an industry leader design curriculum and offer students hands-on experience at a dealership while pursuing a degree has given students a tremendous head start in one of the nation's largest industries.
"The OBE will work directly with companies like Hendrick that share the university's values and offer our students numerous paths toward real-work learning and career opportunities," said Liberty President Jerry Falwell. "We recognize that talent is now the currency of the new economy and Liberty University has a distinct competitive advantage in the marketplace. Employers are attracted to the university's Christian worldview and the quality of talent we produce."
Whitt explained that three growing sectors for applied research — engineering, unmanned aerial systems, and cybersecurity — have numerous opportunities right in Central Virginia, as well as nationally.
"Those are three areas where we are growing academically and where there is tremendous demand for employees, literally hundreds of thousands of jobs and growing," he said.
Liberty's Career Center and Office of Sponsored Programs will work directly under the OBE, while departments across the university — including the Center for Research and Scholarship, the Office of Development, Alumni Relations, and various colleges and schools — will share resources and collaborate to produce more opportunities for students.
"These collaborative relationships within Liberty will help all of our departments better interface with business and industry," Whitt said.
At the end of the day, these efforts have a sole purpose.
"We want our students to graduate and get the best jobs with the best companies in the world, to be those Champions for Christ in the marketplace," Whitt said.
The OBE is located on the second floor of the Montview Student Union.
Visit Liberty.edu/OBE for more information on partnering with Liberty University.
About Liberty University
Liberty University, founded in 1971, is the world's premier Christian university, the largest private, nonprofit university in the nation, and the largest university in Virginia. Located near the Blue Ridge Mountains on more than 7,000 acres in Lynchburg, Va., Liberty offers more than 600 unique programs of study from the certificate to the doctoral level. Approximately 350 programs are offered online. Utilizing its world class infrastructure and Christian faculty, Liberty's mission is to train Champions for Christ with the values, knowledge, and skills essential for impacting tomorrow's world.