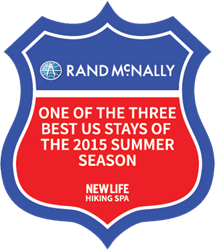 New Life Hiking Spa is one of the three best U.S. stays of the 2015 summer season.
Mendon-Killington, VT (PRWEB) July 10, 2015
New Life Hiking Spa, a seasonal destination spa located in the Green Mountains of Vermont, has been selected as one of the three "Best U.S. Stays of the 2015 Summer Season" by Rand McNally.
The three destinations offered in the round-up are The Strater Hotel in Durango, CO, Omni Homestead Resort in Hot Springs, VA and New Life Hiking Spa in Killington, VT. New Life Hiking Spa was selected in part because of the all-inclusive, affordability of the rates and the variety of hiking that is offered.
Founded in 1978, New Life Hiking Spa has been a pioneer in the destination spa industry and has become nationally recognized as an affordable fitness and wellness destination. New Life is open each year from mid-May through the end of September when hiking is at its peak. The 2015 season will run until September 28.
Known for its exhilarating hiking program, delicious healthy meals and a comfortable atmosphere, New Life Hiking Spa offers the chance to experience the peace of the outdoors in a down-to-earth, country inn environment. It is ideally suited for small groups, couples or individuals trying to improve their wellness level and de-stress. New Life offers a variety of vacation options from 2-4 night mini-getaways to 11 night or longer retreats.
All-inclusive prices range from $235 - $265 per night. Prices include a room, three healthy meals per day, fresh fruit and vegetables as snacks, one guided hike every day (three levels offered per day to accommodate everyone's fitness needs), all fitness and yoga classes, one massage for every three night stay and evening lectures and cooking demos.
A summer special is being offered for those booking their August or first two weeks of September vacations by July 31, 2015. Discounts up to $20 per night/per person are offered off the regular price for double occupancy for any length of stay. For single occupancy, discounts of $200 off an 11 night stay or $12 off per night for shorter stays are available. Reservations can be made and more information on New Life's programming can be found online at http://www.NewLifeHikingSpa.com
Rand McNally is the country's most trusted source for maps, navigation and travel content. Products and services include: America's #1 Road Atlas, a variety of routing software and fleet management solutions, leading geography-based educational resources for the classroom and travel magazines.