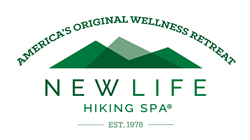 I can stay at New Life in a private room for 3 weeks for the same price as other retreats for one week in a shared room. It's the best value in wellness!
KILLINGTON, Vt. (PRWEB) February 13, 2019
Since 1978, New Life Hiking Spa has been providing affordable wellness and weight loss retreats in the Green Mountains of Vermont. As the name suggests, hiking is the pinnacle of the programming. Three levels of guided hikes are offered each day and the retreat is located in Killington where the Appalachian Trail and Long Trail intersect. Spa services, fresh meals, yoga, fitness classes and Vermont hotel accommodations round out this award-winning destination each spring – early fall season.
This will be the 42nd summer hosting hiking and wellness retreats in Vermont. Over the years, New Life has received many awards and coverage not only for their affordability, but incredible programming. New Life Hiking Spa has been in Travel + Leisure as a #1 destination spa in 2016 and has been ranked #1 on the Spas of America listing for the past five years.
The 2019 retreat season will take place May 16 – September 30. Reservations are currently being taken for the upcoming season. The 21 night retreat is available for any 21 consecutive nights of the season, with check in any day. The first retreat for the year will be May 16 – June 5 and the last retreat of the year will be September 9 – 30.
Each guest of the Extended Stay Retreat will receive:

Private accommodations with a private bath for 21 nights. New Life's headquarters is on Killington Mountain in a quaint, Vermont ski inspired lodge.
21 expert guided hikes (a variety of levels offered each day). After breakfast, guests will gather with fellow New Lifers and spend the rest of the morning hiking. Three levels of hiking are offered each day that will challenge everyone according to their fitness level: the nature walk, the classic hike and the advanced hike.
63 freshly prepared meals (calorie controlled). New Life prepares three delicious but healthy meals a day, made with fresh ingredients.
All fitness classes (hiking is in the morning, fitness classes in the afternoon). After hiking and a healthy lunch, guests can take a class to improve their wellness. New Life Hiking Spa offers yoga, a variety of fitness classes, outdoor games, afternoon walking meditation at a nearby waterfall and more.
7 complementary massages. Guests can enjoy a relaxing massage or other service to sooth tired muscles with New Life's unpretentious and talented massage therapists. One service is included with each three-night stay. New Life is not a "day spa" and only offers massages to guests of the retreats.
Use of a 20 person outdoor hot tub, or indoor lap swimming pool.
Nutrition Lectures
Nightly Activities
Guests of the 21 night extended stay wellness retreat pay one, all-inclusive rate of $5,229 for 21 nights in a private room with a private bath. Double occupancy rates are $4,809 per person. Participants for double occupancy must bring their own roommate. Amenity charge and Vermont tax is additional.
"I gathered information on over a dozen wellness and weight loss retreats before I found New Life Hiking Spa. I can stay at New Life in a private room for 3 weeks for the same price as the others for one week in a shared room. It's the best value in wellness," said repeat guest Mari Greenburg from Boca Raton, Florida.
For a limited time, guests who book a 21 night retreat for:

May 16 – June 5
June 6-27
July 6-27
August 1 – 22
by March 15, will receive a discount of $400 off the total price for single occupancy or $525 off the total price for each guest who are staying as double occupancy. The price with the discount for single occupancy is $4,829 and for double occupancy (per person) = $4,284 plus amenity and tax.
About New Life Hiking Spa
Founded by Jimmy LeSage, M.S. who decided to take an empty ski lodge during the summer months and turn it into a retreat with hiking, spa services and healthy food, New Life Hiking Spa has grown into one of the top wellness retreats over the past four decades.
Approximately 1,000 guests from around the world attend New Life Hiking Spa in Vermont each season. New Life Hiking Spa is open May – September when hiking is at its peak in Central Vermont.
Reservations are now being accepted for the 2019 season dates of May 16 – September 30. Early booking specials and additional information on shorter hiking vacations, wellness retreats, weight loss and healthy eating are available on the website at http://www.newlifehikingspa.com or by calling 802-353-2954.