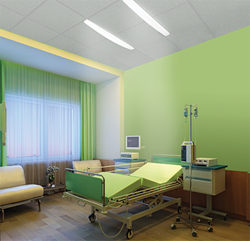 MILWAUKEE (PRWEB) August 08, 2018
Ceiling and plenum space is precious in patient rooms. Besides ductwork and piping, specifiers must also work around bariatric lift supports, ceiling-mounted medical equipment, curtain tracks, safety mirrors, wall-mounted medical equipment, and nurse call systems and dome lights. Lighting needs to perform its functions without overcrowding that equipment.
For healthcare designers, specifying products that can perform within the limitations of the space is challenging—especially above the patient bed, where they may also desire multiple lumen outputs or color temperature options from the same luminaire. "We're always trying to find the right balance between the proper illumination for the caregivers and the right lighting to help patients feel comfortable," says Laurie Emery, Healthcare Market Development Manager for Visa Lighting. "The patients are the ones spending most of their time there."
Luminaires in general have been trending toward slim linear forms for years, and the more general spaces in healthcare facilities have already incorporated those sleek designs. To meet contemporary aesthetics in medical spaces, specifiers have had to use non-medical solutions.
Now, with the advancements of LED technology, Visa Lighting engineers are able to fit the necessary functions for patient room overbed lighting inside a narrow form. Their new dual slot luminaires, Unity and Lenga, are only 3" wide and 4" deep. These dimensions open up ceiling and plenum space—as well as answer current minimalist design needs.
"It's an aesthetic choice that healthcare designers wanted, and we listened," says Dan Schwade, Visa Lighting Applications Engineer and Product Designer. "They wanted nothing larger than 3" wide. That's a trend in other areas, but they haven't seen anything like that specifically for the healthcare space."
These new luminaires have two models each: one with standard white LEDs and one with 2-channel tunability to help regulate patient circadian rhythm. To function as medical luminaires, all four models offer:

Ambient and exam lumen output levels
Optional 90+ CRI for accuracy of color-sensitive examinations (standard in tunable models)
0-10V dimmable to mitigate patient disturbance
Zhaga-compliant LED boards for design longevity
Snap-in lenses that allow tool-free access
Discrete wiring between the two units
Antimicrobial finishes on interior and exterior painted surfaces
Product engineers also ensured each model has multiple mounting options to accommodate as many different ceiling grid types as possible, along with drywall options. This adds another layer of flexibility for specifiers.
Both luminaires have their own unique design approaches. Lenga's asymmetrically-angled coextruded lens is clearer on one side for exam levels and wider and more diffused on the other side for ambient light. When paired in tandem, the clearer side of each unit throws exam light asymmetrically onto the center of the patient bed. "Lenga is a great solution for ICU or ambulatory emergency care applications because it can provide a higher lumen output for exam lighting," says Emery. The standard white model (see spec sheet here) emits 2700-2800 lumens in ambient mode and 8200-8600 lumens in exam mode.
Unity, on the other hand, is an extension of an award-winning healthcare line that Visa Lighting introduced to the market in 2011. Every model appears soft and cloth-like, with curved diffusers that bring warmth and comfort. Their new dual slots retain that same curved softness from long, narrow bodies. "Standard patient care rooms would really benefit from the Unity slots," says Emery. "They encourage a quiet, peaceful healing space." The standard white model (see spec sheet here) emits 5300-5600 lumens in ambient mode and 7800-8200 lumens in exam mode.
The tunable models of both families (see tunable model specs: Unity and Lenga) emit a CCT range of 2700K-5000K and also provide ambient and exam lumen levels.
For Unity and Lenga, patient-centered design is all about doing your job without getting in the way—physically or visually.
About Visa Lighting: Visa Lighting's mission is to forge bold, exceptional experiences through progression and creative collaboration. That's why their performance architectural lighting products are designed, manufactured and assembled by skilled craftspeople in Milwaukee, WI. Decades of manufacturing expertise qualify Visa Lighting to promote responsible innovations in lighting technology, creating opportunities to protect the natural environment while sustaining wellbeing in the built environment. Visa Lighting is an Oldenburg Group company.