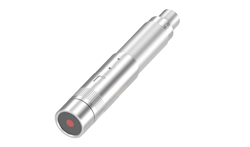 FLORENCE, Ky. (PRWEB) April 24, 2020
Six new line lasers from Balluff deliver outstanding projection quality for industrial image processing.
By generating a fine laser line across a horizontal plane, the newest additions to Balluff's vision line assist in detecting, aligning, positioning and measuring workpieces. Red, blue, and green light types provide opportunities to counteract colors on a part or a part's reflectiveness. Red light versions are also available in various projection types including line, point and cross.
These models can be triggered, focused and modulated. And they can be precisely positioned using an M18 or 20 mm diameter attachment.
Each has an industrial-grade stainless steel housing and offers an IP67 rating, making them reliable in demanding conditions. And thanks to their shock, vibration and temperature resistance, they can be widely used in nearly any industry where vision tools are used for measurement applications.
Key features:

For precise positioning and image processing
Industrial-grade stainless steel housing with IP67 rating
Shock and vibration resistant
Temperature resistant
-Best laser light consistency in a low laser class
Learn more at: http://www.balluff.com.
About Balluff Inc.
Balluff Inc. is the U.S. subsidiary of Balluff GmbH, Neuhausen, Germany. Balluff is a leading supplier of networked IO-Link control system architectures that unlock the potential of the IIoT and Industry 4.0. Balluff offers a wide range of intelligent IO-Link and industrial Ethernet sensors in a variety of technologies including inductive, photoelectric, capacitive, and magnetic as well as magnetostrictive linear position sensors, magnetic tape linear encoders, industrial RFID systems, and industrial vision systems. Balluff provides cost-saving, process-enhancing solutions to machine builders and manufacturers to control, regulate, automate, assemble, position, and monitor manufacturing, assembly, and packaging sequences. Industries served include: automotive, packaging, food processing, beverages, tire, primary metals, conventional and alternative energy, semiconductor, plastics, and fluid power.