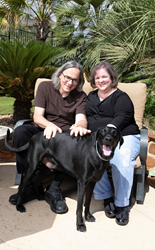 (Winston's) experience with the Pet Wants food helped us decide that this was a business we wanted to open here in Austin. Pets bring us so much joy and extend our lives and they deserve the very best in return including nutrition that is fresh and healthy. - Alex Kombogiannis
AUSTIN, Texas (PRWEB) September 17, 2018
When Alex and Shawn Kombogiannis moved to Austin, they knew they wanted to open their own business, but they wanted it to be something they had a great passion for and that would give back to the community. Now they are pleased to announce the grand opening of their new company, Pet Wants Austin West.
Pet Wants' specially-crafted pet food formulas are made in small batches with fresh, natural ingredients enhanced with vitamins and minerals for a complete and balanced diet in every bowl. Pet Wants Austin West offers multiple blends of dog and cat food formulas as well as healing salve, calming balm, anti-itch spray, paw wax and more. Pet Wants Austin West has a storefront located at 1310 Ranch Road 620 South, Suite A7, in Austin and offers free delivery to Bee Cave, Lakeway, Steiner Ranch, Westlake, Tarrytown, River Place, NW Hills, Circle C, Zilker and Bear Creek.
Alex was born in Greece and moved to New York when he was four. He owned and operated a successful dry cleaning business, but he was never passionate about the work. Shawn is a native of Austin; she worked in a myriad of administrative positions at culinary schools until 2006 when she moved to New York. After spending eight years together in New York, where they were married, they decided to move to Austin. It was not easy to convince a life-long New Yorker to move, but when Shawn gave Alex a tour of Lakeway, he fell in love with the community and knew immediately this was where he wanted to be.
"We spent eight years together in New York and, in those 8 wonderful years, I got to know my best friend, love of my life and the woman I would be blessed to have as my wife. I was, however, a little reticent about leaving New York. I loved the city and its people. But when Shawn took me through Lakeway, I was enamored by its natural beauty and more than excited about the move. We love it here and we're thrilled to be launching a business together working with animals and doing something we'll both enjoy," Alex said.
A year after moving to Texas, Alex and Shawn decided to adopt a dog who was on the verge of death from the shelter.
"We saw this beautiful black lab online and decided to go see if he spoke to us – he was very sick weighing only 60 pounds, with more than 300 ticks on him, two tick infections , two upper respiratory infections, anemia and a fever of 105. We fell in love with him at first sight, took him to the vet immediately, got him healthy and he's been with us for three years now. We named him Winston because we felt like he deserved a strong name and I've always admired Winston Churchill," Alex said
In the late winter, they began feeding Winston Pet Wants food. Because of his allergies he had been on multiple specialty foods, including prescription food. He loves the Pet Wants food – and so do his pet parents.
"We wanted to make sure, if we were going to sell products, that they were products we believed in. Winston loves the Pet Wants food and his coat is thick, soft and shiny. Winston brings us so much joy every day and we are thrilled that we can feed him a food that's actually good for him and that he enjoys," Alex said. "His experience with the Pet Wants food helped us decide that this was a business we wanted to open here in Austin. Pets bring us so much joy and extend our lives and they deserve the very best in return including nutrition that is fresh and healthy."
Pet Wants has a 100-percent, money-back guarantee on the freshness and quality of the food and the company only sources the best salmon, chicken, lamb, brown rice and other ingredients available. There's no sugar added, no fillers and no animal by-products and Pet Wants never uses corn, wheat, soy or dyes, which makes the food great for animals with allergies.
Alex and Shawn are looking forward to more than owning the shop – they're excited about the opportunities a pet-focused business gives them to give back, both by working with local rescue organizations and with food donations.
To learn more about Pet Wants Austin West, call (512)428-5700, email Winston@PetWants.com or visit https://petwantsaustinwest.com/.
About Pet Wants: Pet Wants was started by Michele Hobbs out of love for her pets and frustration. Veterinarians were unable to help relieve her dog's painful skin allergies. After doing much research, Michele discovered the national dog food brand she trusted was not fresh, not all natural, and lacked sufficient nutrition and – when pet food sits in warehouses and store shelves for months and months – it loses even more nutritional value. She was committed to developing a better solution for all dogs and cats. Their food is exclusively crafted. It's fresh, healthy and slow-cooked with no sugar added, no fillers and no animal by-products. They source only the best salmon, chicken, lamb, brown rice, and other ingredients. Fresh ingredients make for better food… and better health for pets. And since they never use corn, wheat, soy or dyes, the common pet health problems associated with these ingredients are no longer worries. Their fresh food is conveniently delivered to the customer within weeks of production, not months. Roughly half of Pet Wants products are sold through their store and half through their convenient, home-delivery program. You can learn more at http://www.PetWants.com.