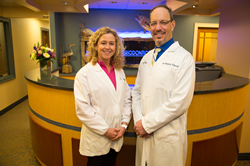 Finding out what's really important to our patients is at the core of our process here.
NEW LONDON, Conn. (PRWEB) July 06, 2020
Drs. Gregory Toback and Marianne Urbanski are honored yet again on Connecticut Magazine's 2020 Top Dentist list within the Periodontics category. As specialists, this team of periodontists offers high-quality care from their two practice locations in New London, CT and Westerly, RI. Laser gum disease therapy, minimally invasive gum recession treatment, and life-changing dental implants are all available from their state-of-the-art practice Shoreline Periodontics.
Authorities in periodontology, Drs. Toback and Urbanski frequently speak on advanced periodontal techniques across the country and even host two study clubs: Shoreline Periodontics Hygiene Study Club and Synergy Study Club. Amid the COVID-19 pandemic they have been highly sought after for webinars on the oral-systemic connection as well as the latest advancements in dentistry.
As a result, it is easy to see why they have been placed on this honored list for so many consecutive years. The Connecticut Magazine creates an exclusive poll to form the Top Dentists list each year. Nominated and voted on by their peers, Drs. Toback and Urbanski were both individually honored on this prestigious list.
Shoreline Periodontics combines decades of specialized training and experience with minimally invasive in-house technology to offer a truly unique experience. Both have received certifications to provide the revolutionary Chao Pinhole® Surgical technique that eliminates the need for incisions when reversing the effects of gum recession. For gum disease treatment, they offer comprehensive care including LANAP®. This laser gum surgery technique is the only laser dentistry solution FDA-cleared to not only eradicate disease-causing bacteria, but also regenerate tissue lost to infection.
As implant specialists, they offer single dental implant treatments all the way to life-changing full mouth dental implant solutions for those with tooth loss. In many cases these dental implant solutions can even be offered in just one day, limiting visits to the office and time spent without a complete and healthy smile.
Beyond modern techniques and technology, they strive to take a unique approach to care. "Many of the patients we see here at Shoreline Periodontics have had a history of chronic failed dentistry and complex problems," says Dr. Toback, "Finding out what's really important to our patients is at the core of our process here." He continues to explain how the care they offer is truly individualized to the needs of their patients; they do not offer one-size-fits-all solutions.
Those interested in seeing a team of periodontists honored on the Top Dentist list by Connecticut Magazine, can call Shoreline Periodontics' New London location at 860-443-2428 or 401-596-0000 for the Westerly, RI office and schedule a personalized consultation. Those interested in learning more about this team can read more on their website http://www.shorelineperio.com.
About the Periodontists
Shoreline Periodontics is a periodontal practice offering personalized dental care for patients since 1998 and is located in New London, CT and Westerly, RI. Leading board-certified periodontist, Dr. Gregory A. Toback, received his B.A. from St. John's University and his Doctorate of Dental Medicine from the University of Connecticut. He also received advanced training in periodontics and dental implants at the University of Texas Health Science Center in San Antonio. Dr. Marianne Urbanski has been voted one of Connecticut's top dentists for more than seven years by Connecticut Magazine. Dr. Urbanski graduated cum laude from the College of Holy Cross in Worcester, Massachusetts where she earned a Bachelors' degree in Biology. She also received her Doctor of Dental Medicine degree and her Masters' of Dental Science degree from the University of Connecticut Dental School. Dr. Urbanski and Dr. Toback pride themselves on offering caring, professional treatment to each patient. Dr. Toback and Dr. Urbanski focus on minimally invasive surgeries including LANAP® laser gum surgery and are certified to offer the Chao Pinhole Surgical Technique™ for treatment of gum recession. To learn more about Shoreline Periodontics and their dental services visit their website at http://www.shorelineperio.com or call 860-443-2428 for the New London, CT location, or 401-596-0000 for the Westerly, RI office.