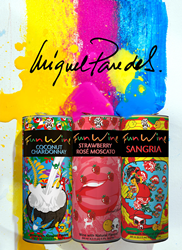 MIAMI (PRWEB) October 16, 2019
Inspired by the hip vibe and culture of Miami, Fun Wine™, a low alcohol flavored wine, is now available in single serve slim cans in addition to their award winning 750ml glass bottles. Three award-winning flavors Coconut Chardonnay, Strawberry Rosé Moscato and Sangria make Fun Wine™ a perfect addition to any occasion.
Packaged in bold, eye-catching, original art by famous Urban Artist Miguel Paredes, Fun Wine™, stops shoppers at the shelf. And at 5.5% ABV, Fun Wine™ is a gluten-free, all natural beverage that responds to growing consumer trends toward lower alcohol and "better-for-you" beverage options. Conveniently packaged in 250 ml cans, Fun Wine™ is portable and ready to drink.
The graffiti-inspired packaging design was influenced primarily by the flavors of the product, according to Paredes. "The design of each bottle conveys what the flavor is like, and the feeling that tasting and sharing it with friends evokes. My art style and Miami are the next biggest influences", Paredes explains.
"Fun Wine™ meets consumers' demand for a full flavor, delicious alcoholic beverage that delivers great taste at a great value," said Lisa Texido, brand manager, Fun Wine™ at FIFCO USA. "The bold packaging, unique flavors and unpretentious approach appeals to customers worldwide."
Now available in Arizonia, Georgia, Illinois, Indiana, Michigan, Nevada, New York, Ohio and Vermont, Fun Wine™ will roll out nationally in the next 12 months. Suggested retail price is $2.29 for a 250 ml can, or 2 cans for $3.99, or 3 cans for $5.99 of Fun Wine™.
"We developed the FUN WINE category to make wine more accessible, friendly and fun," said Joe Peleg, Founder and CEO. "We're excited to build on the momentum that Fun Wine™ has in the U.S. and roll it out nationally!"
FUN WINE Sangria
Fruity, flirty and inviting, Sangria has distinct notes characteristic of the ripe fruit juices used in its creation. Bold and refreshing served chilled, this is the perfect drink all year round. A bronze medal award winner at the World Wine Championship, Sangria is the top-selling flavor.
FUN WINE Coconut Chardonnay
Experience the smoothness of a Chardonnay with the exotic flavors of coconut and a hint of pineapple. Served chilled Coconut Chardonnay delivers a bright, sweet and tropical flavor that earned a silver medal at the World Wine Championship.
FUN WINE Strawberry Rosé Moscato
Let the fruity refreshing taste of strawberry and the crisp aroma of the Rosé Moscato wine flirt with your taste buds. Served chilled, Strawberry Rosé Moscato delivers a sweet, light bodied spritz of strawberry flavor that earned a silver medal at the World Wine Championship.
About FUN WINE
Fun Wine™ is the pioneer brand that addresses new consumer preferences in the everchanging beverage alcohol category, allowing consumers to enjoy full flavor yet low alcohol wine in a casual and fun way. Made from real grapes combined with natural flavors, Fun Wine was developed for millennial and female consumers that seek new experiences as their taste evolves. Fun Wine™ is imported by The Fun Wine Company in Miami, FL and marketed by FIFCO USA.
Media Contact: Kierra Hearne / 914.294.8282 / khearne@parallel36.com