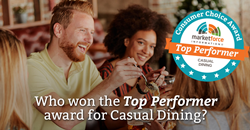 "Exceptional brands tend to have exceptional cultures with an emphasis on people and performance at their core. Companies seeing remarkable success are better at hiring, training, managing, rewarding, and firing when necessary than their peers." Scott Griffith
PEACHTREE CORNERS, Ga. (PRWEB) March 04, 2020
Every year Market Force Information® studies the top multi-unit brands across several industries to uncover the best of the best. Through Market Force's unique approach to analytics, they determine what matters most to consumers and how top brands compare across several dimensions of the customer experience. For Market Force clients, this expertise is then applied in combination with technology and data science to provide guidance that helps brands improve their sales, profitability, and appeal to consumers. This unique capability has been recognized by industry analysts and is applied by global brands to deliver continuous performance improvement.
Market Force Casual Dining Review 2019
According to Market Force data, the casual dining sector appears to be hitting a plateau, with constant or declining customer satisfaction levels in nearly every category vs. their performance in the 2018 study. Creating the perfect environment for innovative brands to capture market share, putting pressure on mature players. According to the latest restaurant industry study, there is a new leader in Casual Dining! First Watch has been selected as America's new favorite restaurant brand. Further, National Restaurant News data shows the corresponding financial impact of industry leadership with First Watch posting year over year growth of 33.04% as compared to the prior year's growth of 30.83%, a tremendous accomplishment.
The annual study of nearly 6,600 consumers reveals diner's favorite casual dining restaurants in seven categories including Breakfast, Buffet, Italian, Pizza, Seafood, and Steakhouse. For an in-depth review of the study in its entirety, please get in touch to learn more.
Winners and Losers
The hottest category, in terms of customer satisfaction and loyalty, continues to be Steakhouses with a composite loyalty index (CLI) score of 56.65%. Steakhouses continue to lead the way, while restaurants offering general menu and buffet offerings struggle to delight consumers. With a difference of nearly 14% on the rating scale, the Steakhouse is 32% higher than the CLI score for the lowest-performing category of General Menu.
At the top of the Steakhouse leaderboard is Texas Roadhouse featuring a repeat victory. In an interview with Scott Griffith, Market Force's SVP of Global Innovation, he cited that "From an operations perspective, they are one of the few brands who have been able to execute a platform of hospitality consistently. With special touches such as using customer names, engaging in conversation, and truly getting to know patrons, they have developed a leading service platform. This platform led to a unique advantaged position, from a customer experience perspective, helping to deliver 9.55% sales growth year over year."
The reality is that top-performing brands understand the importance of customer experience better than their rivals do. This understanding paired with customer experience management systems and processes (that include the following: employee engagement and recognition with compensation programs, customer surveys and support with loyalty programs, mystery shopping, social media monitoring, and internal audits), ensure guest satisfaction is measured from every angle. With a solid foundation of data to measure execution at the front lines, brands that are successful at delivering consistent guest experiences earn trust from diners leading to brand loyalty and repeat visits.
According to Scott Griffith, "Exceptional brands also tend to have exceptional cultures with an emphasis on people and performance at their core. Companies that are seeing remarkable success today are better at hiring, training, managing, rewarding, and firing when necessary than their peers. They become talent magnets while their peers struggle to find quality employees."
Brands that struggle with front-line execution also tend to struggle with sales growth as they lose market share to more disciplined competitors. To compensate for lost market share, struggling brands may turn their focus to advertising and discounting practices to bring customers in, only to disappoint them with a second-rate customer experience, lack-luster food quality, and dirty aging facilities. A financially risky game to play! Brands that neglect improving front-line execution remain at risk of further margin erosion, whereas merely focusing on operational performance can be a far more effective path to sustainable organic growth.
This challenge is precisely what Market Force addresses with its global clientele. According to Brad Christian, the company's Chief Customer Officer, "The first step in delivering consistency is an accurate assessment of reality so that brands can create a strategy based on the priorities that are most likely to influence their financial performance."
By executing industry-focused annual competitive research studies, Market Force provides industry executives with an objective consumer perspective on their brand's ability to perform across critical dimensions of the customer experience. With a true education in market perception, it becomes easier for industry leaders to allocate dollars appropriately for operations and marketing initiatives to optimize the performance of their respective businesses.
The Top 4 Brands Were Category Winners in Their Respective Categories
1. First Watch dominated the breakfast category creating a massive gap between themselves and the competition. Not only winning breakfast, First Watch claimed the top overall ranking in Market Force's 2019 Casual Dining Study.
2. Pappadeaux dominated the seafood category with a CLI of 64%, 8 points above the next highest ranked, BoneFish with a 56% CLI.
3. Texas Roadhouse won top honors in the Steakhouse category with a CLI of 61% due to its outstanding service platform delivering the trifecta of friendly, fast, and experiential service.
4. MOD Pizza and Mellow Mushroom were neck and neck in the pizza category with CLIs of 59.8% and 59.7%, respectively. In 2019, MOD held on to the top spot but fell significantly from its 2018 position of dominance. Rapid growth is the most likely culprit as they were the fastest-growing brand in our study, with 44.7% sales growth year over year, as reported by National Restaurant News.
The Biggest Movers
The top three brands that changed their stars to improve CLI scores significantly were California Pizza Kitchen moving up 13%, Pizza Hut for their buffet offering at plus 11%, and First Watch with a 10% gain over 2018 results. Brands that experienced challenges included MOD pizza with a 16% slip, Cracker Barrel down 11%, and Cheddar's Scratch Kitchen that experienced a 9% drop, in comparison to 2018 results.
Significant changes in performance validate the industry's sensitivity to fluctuations in execution across key food dimensions like quality, service, and facilities. Mature brands that drive positive change are rewarded for improvements, while up and coming stars often lose their way under the pressures of growth and expansion. First Watch continues to post impressive numbers with growth at 33%+, and California Pizza Kitchen and Pizza Hut both transitioned from negative to positive sales growth in 2019. They are demonstrating that improving customer experience can precipitate continued growth and a progressive turnaround.
Methodology
To develop the list of brand rankings, Market Force asked survey participants to rate their last experience at a casual dining chain and their likelihood to recommend it to others. That data was averaged to evaluate each brand on an aggregation of the two measures creating the Composite Loyalty Index (CLI). Only brands that received 100 or more reviews were included in the rankings.
Survey Demographics
The survey was conducted online in November 2019 across the United States. The pool of 6,598 respondents represented a cross-section of the four Census regions and reflected a broad spectrum of income levels, with 58% reporting household incomes of more than $50,000 a year. Respondent ages ranged from 18 to over 65. Approximately 73% were female, 26% were male, and 1% preferred not to answer.
About Market Force Information
Market Force Information® is a customer experience consultancy that works with leading restaurant and retail organizations, from the C-suite to front line team members, to empower business outcomes that enable sustainable growth in customer satisfaction and financial performance. Operating globally to serve over 200 clients, Market Force is recognized by the AMA Gold Report as a top 50 market research organization and CIO Applications as a Top 10 Analytics Solutions Providers. To learn more about our story and services, please visit us online at http://www.marketforce.com.