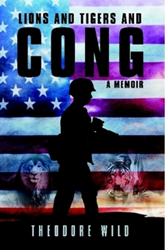 LONG BEACH, Calif. (PRWEB) April 12, 2019
Theodore Wild marks his publishing debut with the release of "Lions and Tigers and Cong" (published by Lulu in September of 2016), a memoir charting the daily life of an American infantryman during the Vietnam War.
"Lions and Tigers and Cong" is a view of the war from the front, from the ground level, in the eyes of the young men who endured it. The book offers a factual and in-depth review of American infantry at war in the late '60s.
"It is not glory, heroics and bravado, it is stoic endurance," Wild describes. "With the understanding of what these men went through, more compassion and understanding might be offered to current warriors, both men and women upon their return."
The book highlights more on the living conditions, the friendships, the shared laughter and memories of what was left behind. It lets the reader know and identify with the troops.
Through his story, Wild aims to impart to readers compassion and fierce sense of pride in the American military, and how best to serve them as they have served the people.
To purchase and know more about the book, readers can visit https://www.amazon.com/Lions-Tigers-Cong-Theodore-Wild/dp/1483458237/ref=sr_1_1?ie=UTF8&qid=1519278548&sr=8-1&keywords=9781483458236.
"Lions and Tigers and Cong"
By Theodore Wild
Softcover | 6 x 9in | 398 pages | ISBN 9781483458236
E-Book | 398 pages | ISBN 9781483458229
Available at Amazon and Barnes & Noble
About the Author
Theodore Wild was a soldier during the Vietnam War. After serving, he moved into the hospitality field where he was a chef for 45 years. Now retired, Wild writes and records music and is working on a book about the hospitality industry.