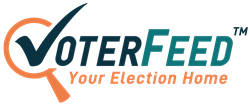 "COVID-19 has created an urgent need to help provide candidates from all parties with better ways to engage voters online, especially since the Coronavirus has eliminated typical door-to-door and public rally campaigning" says President and founder Marc Appleby
LEWES, Del. (PRWEB) August 10, 2020
A new media platform is being introduced in the U.S. to help candidates of all political stripes, at all political levels, win over more undecideds, independents, and swing voters.
VoterFeed.com is a social media aggregator where each candidate has a dedicated campaign page pre-loaded with their Facebook, Twitter, Instagram, Youtube and Linkedin accounts, all organized into one easy-to-follow feed for voters.
Candidates can also further customize their VoterFeed™, including their photo, biography, and top 5 priorities, as well as provide direct links back to their campaign platform and donation page.
"COVID-19 has created an urgent need to help provide candidates from all parties with better ways to engage voters online, especially since the Coronavirus has eliminated typical door-to-door and public rally campaigning" says President and founder Marc Appleby.
"Our first-of-its-kind platform will officially launch to the public later this Summer, but we're already following almost 5,000 candidates in federal, state, and local races across the U.S. Today, we want to invite all candidates running in 2020 to get early access by activating their campaign now at VoterFeed.com."
Appleby says that VoterFeed™ was created to provide an easier way for voters to find, follow and compare candidates in any election, while providing candidates with the best way to campaign online, find new voters and raise more money.
A Pew Research survey dated February 2020 says that about two-thirds of Americans (66%) feel worn out by the amount of news being generated each day, making it confusing and difficult for many voters to understand candidates' true positions on issues.
Candidates too can often feel misrepresented, sometimes due to media bias or political partisanship, other times their words taken out of context, but either way these civil divisions have been shown to be easily exploited by foreign governments like Russia and China.
VoterFeed™ on the other hand aims to provide clarity about candidates on what their top priorities will be if elected. Billing itself as 'Your Election Home', it is designed as a one-stop shop for voters to compare candidates fast, focusing especially on those harder-to-follow state and local races.
With so many divisive public commentaries on social media, Appleby says that" I believe that the political conversation for voters and candidates can instead be a productive one, where they can connect effectively with each other, and have a positive impact on campaigns and their message."
To meet that challenge, VoterFeed™ offers what they're calling Voter-Feedback™, a proprietary and private communication link between candidates and voters, away from the often noisy and negative media climate that can frustrate people on all sides of the aisle.
Another Pew Research survey from February this year also found that most Americans (72%) say it is likely that Russia or other foreign governments will attempt to influence the November 2020 election.
To help counter concerns, VoterFeed's secure channel only allows the candidates themselves to speak directly to voters, with no third-party ads. This bypasses any risk of foreign meddling or corporate influence when a voter is trying to compare candidates on the issues that matter to them.
"In addition to their integrated social media feeds, candidates can now upload video, audio, and pictures from the campaign trail to showcase their personality and platform, and share it with voters through their own dedicated voter-focused channel," explains Appleby.
"Each candidate's VoterFeed™ is based on the good old soapbox model where only the candidate's own spoken words are used for voters to make a decision. In our research, it is an electorate right now that does not want to be buried in Google searches, biased media opinions, or the confusing analysis of news pundits to get informed."
As Franklin D. Roosevelt said "Democracy cannot succeed unless those who express their choice are prepared to choose wisely. The real safeguard of democracy, therefore, is education."
VoterFeed™ is now sharing login instructions with all campaigns about the exclusive two-week pre-launch access window ahead of September's public launch to voters.
Candidates running in federal, state, or local races in the USA in 2020 are invited to go to VoterFeed.com now and activate their free account for more details.
For more information on VoterFeed's fight for the future of democracy, Marc Appleby can be contacted at media(at)voterfeed(dot)com.