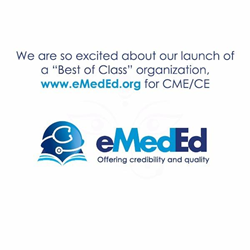 We launched to bring value and higher standards to the medical education arena, by eMedEd.org developing superior, curricular based continuing education initiatives which will set new standards
BASKING RIDGE, N.J. (PRWEB) November 07, 2018
By reimagining CME/CE with the desire to raise the bar, a new medical education organization was launched–eMedEd.org. eMedeEd.org is a full service, nonprofit and nonaccredited, independent medical education organization. This organization is redefining the traditional approach by collaborating with the "Best of Class" accredited providers; those who were awarded by the Accreditation Council for Continuing Medical Education (ACCME) with "accreditation with commendation." eMedEd.org chose not to be just another medical education company and pursues unmatched quality with highly credible medical/academic institutions and organizations.
Priya Korrapati, CEO and Founder commented, "eMedEd.org plans to produce medical education initiatives exemplifying competency, dedication, and fortitude in providing the highest quality medical education with the most credible collaborations. Establishing eMedEd.org demonstrates our desire to articulate our commitment to improve patient outcomes through our emphasis on best practices, scientifically rigorous and clinically relevant activities, which are built by bridging demonstrated educational gaps."
In addition, eMedEd.org welcomes Jeffrey Stein to head up and manage the organization. He brings over 35 years of academic, clinical, industry, educational, strategic, and instructional experience to the core and foundation of eMedEd.org. In his new role, he will become instrumental within eMedEd.org in distilling and unraveling complex research and data into practical knowledge, understanding, and applications. His passion, experience, and expertise will assist in making concepts or ideas into realities. As a facilitator of change, through targeted collaborations, we desire to establish ground-breaking educational initiatives while promoting our mission.
"We launched to bring value and higher standards to the medical education arena, by eMedEd.org developing superior, curricular based continuing education initiatives which will set new standards," said Priya Korrapati, CEO and Founder. She continued by saying, "Jeffrey's commitment and passion are second to none fitting into our goals to set these new standards. Moreover, his efforts to connect healthcare professionals to the most current medical information, research, and resources will serve all parties well."
eMedEd.org is committed to the delivery of scientifically robust evidence-based healthcare education activities through leveraging adult learning principles integrated with instructional design to produce innovative programming higher standards of excellence in CME/CE across the spectrum of therapeutic categories while being compliant.
About eMed Education and eMedEd.org:
Challenges have a way of focusing attention on unmet needs and often result in CHANGE. When viewed properly, CHANGE can result in positive outcomes, offering a new and unique avenue for the future. Thus, the creation of eMed Education and eMedEd.org. eMedEd.org specializes in designing and implementing highly interactive accredited continuing education, CME/CE, along with patient education activities. All activities are developed, and we utilize a variety of proven successful formats across a wide range of therapeutic areas through joint-providerships -- collaborations with ACCME-accredited organizations with commendation. eMedEd.org is committed to the delivery of scientifically robust evidence-based healthcare education activities. eMedEd.org focuses on and develops activities to meet specific educational and practice needs of both the specialists and primary care healthcare professionals. Through targeted objectives, eMedEd.org will provide "best practices" to clinicians practicing in relevant therapeutic areas.
To learn about eMedEd.org, please visit http://www.emeded.org