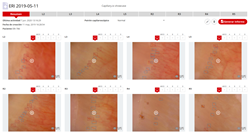 It is an enormous leap in quality to the technique, since it achieves that the reading is done in a systematic way
ZARAGOZA, Spain (PRWEB) September 24, 2020
Capillary.io is a new software that uses today's deep learning techniques to improve the medical practice of nailfold capillaroscopy, a diagnosis process that consists of examining with a microscope the blood capillaries at the base of the nails of each finger of a patient.
By looking at capillaries, doctors can assess the health of the patient's blood circulation, find abnormal capillaries, capillary loss, etc. which can lead to conditions such as scleroderma and dermatomyositis.
Capillary.io is a new tool that improves capillaroscopy efficiency, objectiveness and boosts research by using AI to automatically detect, measure and classify capillaries by its shape and size, and also give useful and comprehensive metrics to doctors.
This is the first tool, in internal medicine and rheumatology, to offer automation advantages to capillaroscopy, a well established technique that lacked proper tools. In the words of Dr. Patricia Fanlo, a user of Capillary.io and coordinator of GEAS-SEMI: "This tool allows us to speed up, improve and facilitate the performance and usefulness of capillaroscopy, systematizing and analyzing the clinical information obtained. We can obtain reports with clinical parameters quickly and easily that guide us in the diagnosis, for example, of diseases such as scleroderma, by studying the microcirculation of the capillaries near the base of the patient's nail".
Related topics: machine learning, deep learning, computer aided diagnosis, internal medicine, rheumatology, autoimmune diseases, microcirculation.