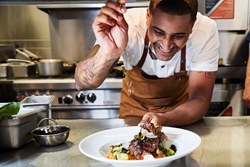 I am truly honored to play such a central role in the initial roll out of SocietyX, which will fast-become a force of nature in shaping the American society of tomorrow.
NEW YORK (PRWEB) June 19, 2019
SocietyX, a new members-only community and experiential incubator dedicated to uniting the world's leading creatives, entrepreneurs, and business owners through exclusive events, today announced an upcoming invite-only tasting dinner with 2019 James Beard Award Winner, Chef JJ Johnson. "A Taste of Art" will feature a three-course meal curated by Johnson for 50 VIP and celebrity guests at an ultra-chic secret location in the West Village on July 11 at 6 pm ET, and debut artwork from WhIsBe's newest collection.
Those interested in purchasing artwork from WhIsBe's new collection in advance of the event will gain access to this exclusive tasting dinner without a SocietyX membership. WhIsBe is a contemporary artist who has established a formidable reputation in both the renegade world of street art and also the mainstream art world, encompassing the museum, gallery and arena of public installations.
Sponsors will also gain entry to this star-studded tasting. SocietyX is still accepting synergistic sponsorships and partnerships with luxury brands interested in participating in the event through July 1, 2019. Sponsors are invited to brand table settings and menu items, or provide a custom activation that aligns with the ambiance this exclusive event will create.
"This exclusive tasting dinner will set the vibrant tone for SocietyX and be the perfect soft launch, as we strive to create an elite, members-only mosaic that will become the cornerstone of influence in today's society," said SocietyX CEO Jaclyn Rosenberg. "By fusing the currents between art, design, fashion, entertainment and culinary arts in experiential environments that encourage artists and investors to connect, we believe SocietyX will become the most exciting incubator in the United States."
Known for cooking the food of the African Diaspora, Chef JJ's signature style was inspired by the Caribbean tastes he grew up with, inspiration from his travels as well as his training at the Culinary Institute of America. Chef JJ is a founder of two New York-based projects. Henry at Life Hotel, a full-service restaurant in NoMad, and FIELDTRIP, a quick casual rice bowl shop in Harlem highlighting rice traditions from around the world with globally-inspired flavors. A trip to Ghana inspired Chef JJ to publish his first cookbook in 2018, "Between Harlem and Heaven: Afro-Asian-American Cooking for Big Nights, Weeknights, and Every Day," which went on to win a James Beard Award in the American Cookbook Category.
"I am truly honored to play such a central role in the initial roll out of SocietyX, which will fast-become a force of nature in shaping the American society of tomorrow," Johnson said. "This is an exciting opportunity for boundary-pushing artists and Americans from different walks of life to come together and weave a new tapestry of culture and influence."
Tasting dinner guests will be able to tour the stunning SocietyX venue, a West Village duplex open loft with a stunning rooftop, where WhIsBe's art will be on display. The rooftop offers views of both the Empire State Building and Freedom Tower, and was recently used as a location for the hit HBO series "Billions." This unparalleled venue creates an authentically luxurious, New York City feel and setting for even the most exclusive, VIP and celebrity events.
For more information about SocietyX, visit http://www.thesocietyx.com.
About SocietyX
SocietyX is a members only community that strives to push each individual member to their unique individual goals by encompassing Community, culture, & creation. Our incubator offers creatives, entrepreneurs, and business owners the opportunity to connect lifestyle, work, entertainment & leisure in an experiential environment. Through a mosaic of art, culture and finance, the community creates serves as a cornerstone of influence in society. SocietyX's mission is to unite, inspire and create through artistic expression in engaging environments. For more information, visit http://www.thesocietyx.com.
Media Contact:
April White
Trust Relations
april(at)trustrelations.agency
323-216-8589