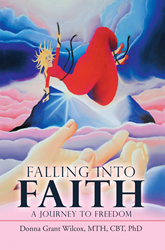 EVERGREEN, Colo. (PRWEB) October 08, 2018
Throughout her childhood, teens and until the age of 23, Dr. Donna Grant Wilcox battled severe health issues and a blood disease that left her unable to conceive. She was constantly in pain and in and out of hospitals, until a miracle happened.
It was discovered that a diseased spleen doctors believe Wilcox was born with caused the rare blood disorder. 12 years later, she was diagnosed with a rare soft tissue sarcoma, which doctors suspected was the result of the experimental procedures given to her during childhood to stop the blood disorder.
In her memoir, "Falling Into Faith: A Journey to Freedom," Wilcox chronicles the many stories of her journey to health and the struggles she went through, some surrounding depression and relationships, others based around her faith, courage, laughter and family. The book emphasizes Wilcox's strong Christian faith and the impact her loved ones and her personal faith had on her journey and recovery.
Donna's personal experiences with depression and mental health led her to become a counselor in order to help others, as she studied both Christian and secular teachings to help people in the best way possible. Through her book, Donna sheds a professional light on important facts, misconceptions, and tools regarding depression.
"Though I wasn't able to have children of my own, God has gifted Bob and I with 49 God-given children and grandchildren of all ages, sizes and ethnicities, who are a constant presence in our lives," Wilcox said. "Through God's good grace, I was able to fight for my life during the most difficult of times and come out on the other side with compassion, humor and grace."
In "Falling Into Faith… A Journey to Freedom" readers will experience a range of emotions as Wilcox's story bounds between the shocking to the heartfelt, all based in scripture, showing readers the power of faith and the will to not only survive, but thrive.
"Falling Into Faith: A Journey to Freedom"
By: Dr. Donna Grant Wilcox, MTH, CBT, PhD
ISBN: 978-1-9736-2253-6 (sc); 978-1-9736-2254-3 (hc); 978-1-9736-2252-9 (e)
Available at WestBow Press Online Bookstore, Amazon and Barnes & Noble
About the Author
Donna Grant Wilcox is a cognitive behavioral therapist with a Ph.D. in Christian counseling with certifications in cognitive behavioral therapy and rational living therapy. She is also a non-denominational interfaith licensed chaplain with a masters in theology who is self-employed under Donna Wilcox Ministries. Wilcox and her husband joined Youth With a Mission and served three years as missionaries in Mexico, India and the United States. Donna was born in Mobile, AL where her father was a pastor. A few years later, he accepted a pastoral position in Ft. Walton Beach, FL, and they remained there for 32 years. Donna and her husband also lived in the DC Metro area of Virginia, where she volunteered her time working with a mentoring program for women and the House of Mercy. After living in other countries as a missionary, Donna and her husband Bob have made their home back in Colorado. Today, Wilcox works as a hospice chaplain with Namaste Hospice, and is a counselor and motivational speaker. Wilcox is a main speaker for Heartbeat of a Woman, located in Colorado. She is also a Christian comedian known as "Southern Sass Florabama" and volunteers her time weekly in nursing homes and assisted living homes, providing music therapy and cognitive behavioral therapy tools for patients with Alzheimer's and dementia. Wilcox also serves her community as a volunteer counselor for victims of sexual abuse, at-risk youth, marriage and family, and mental health disorders. For more information about the author and her book, please visit: http://www.donnagrantwilcox.com/.
Review Copies & Interview Requests:
LAVIDGE – Phoenix
Maggie Driver
480-998-2600 ext. 584
mdriver(at)lavidge.com
General Inquiries
LAVIDGE – Phoenix
Danielle Grobmeier
480-998-2600 ext. 557
dgrobmeier(at)lavidge.com
# # #