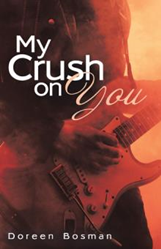 PRETORIA, South Africa (PRWEB) April 16, 2019
In Doreen Bosman's debut book, "My Crush On You!" (published by LifeRich Publishing), she explores all her fantasies in celebrating her crush, taking readers on a journey that flutters between the dream world and reality. The book is separated into two major parts: the first being Bosman's fantasy of being in the Bahamas with a man based off her celebrity crush; the second is the story of Bosman's life in South Africa.
Bosman is lost as she gazes into the soul of the man she had waited so long to experience. In a protracted transitory moment, her every dream comes to life. She explores all her fantasies and takes readers on a journey where it's hard to discern that is fantasy and what is reality. Along the way, she dares herself to attempt the impossible, to celebrate her sexiness and to surrender to her deepest desires.
Penning a book with life lessons, Bosman wants readers to believe that no matter what they are going through, they can overcome their pain. She states, "The book became about my life, my parents' life, dealing with a school bully, revisiting painful teenage years and failed relationships. It transformed into a platform to remember, and then forgive my past hurts and pains, and to learn to find self-love and inner peace."
The book is available for purchase at: https://www.amazon.com/My-Crush-You-Doreen-Bosman/dp/1489721193.
"My Crush On You!"
By Doreen Bosman
Hardcover | 5.5 x 8.5 in | 274 pages | ISBN 9781489721174
Softcover | 5.5 x 8.5 in | 274 pages | ISBN 9781489721198
E-Book | 274 pages | ISBN 9781489721181
Available at Amazon and Barnes & Noble
About the Author
Doreen Bosman was 49, working at a job she hated, and living in South Africa when she developed a crush on an American celebrity. The experience helped her remember a passion she had long forgotten, and to pursue it, even through adversity. Bosman watched her mother's arduous life and was determined to stop the cycle of emotional abuse and victim mentality. With no previous published writing experience, she set out to use her secretarial and coordinator skills to write her first book, "My Crush On You!"