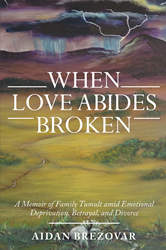 "Emotional abuse, for women especially, can be a smooth, subtle, and hard-to-discern reality. Once you see it and start naming it, abuse can become devastating for a person and for a whole family"
COLORADO SPRINGS, Colo. (PRWEB) February 13, 2023
Catholic priest, Aidan Brezovar, was pastor of a Midwest parish when he received a call that his mother had suffered a stroke. Over the next seven weeks, he left his life in Skyline to be by her side and help around their family ranch. His move unwittingly ignited years of tumult.
The family's calm turned into headwinds when Zoe Lavaro, Brezovar's mother, confided to him a week after the move that she was unhappy in her marriage to Brezovar's stepfather, Al. She believed Al was gradually manipulating her to shut down her interests and end her relationships to focus the whole of her life on him.
As Brezovar listened to and shared his impressions with his mother, with much handwringing she came to see over several months that divorce was her only path to peace. Brezovar determined to support her even if it meant changing his life situation yet again and risking shocked misunderstanding.
"Emotional abuse, for women especially, can be a smooth, subtle, and hard-to-discern reality. Once you see it and start naming it, abuse can become devastating for a person and for a whole family," Brezovar said.
Zoe's decision and Brezovar's support disrupted the entire family, uncovering crusty attitudes and ugly behavior patterns and revealing hard truths. What emerged strained-to-breaking-point Brezovar's relationship with his brother, his best friend, and his children as it coughed up the pain and unresolved concerns from many years earlier when Brezovar's mother and father divorced.
"My worldview and security were shaken by my parent's divorce and remarriage when I was in my early twenties," Brezovar said. "It was the greatest trauma of my life."
Brezovar believes his chronicle invites readers to probe the human situation and their own lives, challenging them to dare to face reality as it is with ruthless courage, gentle compassion, nuanced understanding, and unconditional acceptance.
"When Love Abides Broken: A Memoir of Family Tumult Amid Emotional Deprivation, Betrayal, and Divorce"
By Aiden Brezovar
ISBN: 9781665719643 (softcover); 9781665719629 (hardcover); 9781665719636 (electronic)
Available at Archway Publishing, Amazon and Barnes & Noble
About the author
Aidan Brezovar was born in the Midwest into an ethnic, Catholic family with strong parish roots. He holds a Bachelor of Arts in English and a Masters of Arts in Religious Studies Brezovar spent 35 years serving in the Midwest and West as a Catholic priest in university, parish, and diocesan administration settings. To learn more, please visit https://www.aidanbrezovar.com/.