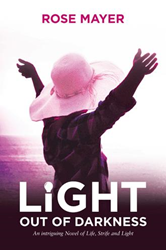 COVENTRY, England (PRWEB) October 30, 2019
Debuting author Rose Mayer walks down the memory lane to share her personal journey of overcoming emotional abuse, poverty and societal prejudice within the pages of "Light Out of Darkness" (published by AuthorHouse UK).
She was not meant to have a voice. She was born and spent her childhood in an ordinary family with a simple lifestyle. Although she knew exactly what she wanted to become in life, the society she grew up in did not allow her to pursue her dreams. Just because she was a girl.
"Light Out of Darkness" shares the story of how one young woman born in Africa overcame societal constraints to realize her dreams. It captures the love and losses, hopes and struggles, traditions and prejudices that bound Mayer to her own emotions and helped her adapt and fight for what she believed was right. She uses her story as both a challenge and an inspiration to readers.
"I was able to come out of emotional abusive relationship — strong and with a voice to tell others that they also can fight for their rights," the author says. "I want them to take the same courage and advice that I had to overcome abuse and to put it behind them as they continue to journey their desired life."
Visit https://www.amazon.com/Light-Out-Darkness-intriguing-Strife/dp/172839256X to purchase a copy and know more about the book.
"Light Out of Darkness: An intriguing Novel of Life, Strife and Light"
By Rose Mayer
Hardcover | 6 x 9in | 114 pages | ISBN 9781728392578
Softcover | 6 x 9in | 114 pages | ISBN 9781728392561
E-Book | 114 pages | ISBN 9781728392554
Available at Amazon and Barnes & Noble
About the Author
Rose Mayer was born in southern Africa, Harare, Zimbabwe, and raised in a family of five siblings. She currently resides in the United Kingdom where she obtained a diploma in health and social care at Mathew Bolton College, Birmingham. Mayer has a great passion to impact young children in her community in her church and beyond. She is highly involved in politics and she is involved in so many activities in her community by being the voice to the voiceless. When she is not glued on the computer screen, she enjoys knitting and sewing or visiting new places.