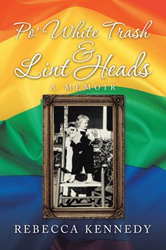 ELLENSBURG, Wash. (PRWEB) November 19, 2019
Author Rebecca Kennedy reveals a candid portrayal of her life story within the pages of "Po' White Trash & Lint Heads: A Memoir" (published by AuthorHouse). In poignant descriptions infused with humor, she recounts her journey out of poverty, mental illness, extreme fundamentalism, racism and trauma.
This memoir centers on the author growing up as a smart kid in a poverty-stricken family with a mentally ill father. Her 1950 through 1964 accounts of a Southern cotton mill culture depict an oppressive and violent Jim Crow era, ultra-fundamentalist Christianity's complicity in maintaining an Old South social order. Kennedy relates her eyewitness stories of "Poor White Trash" families contrasted with her "Lint Head" family's poverty existence. Her childhood and teenage experiences could have socialized her to become an extreme far-right Christian, a racist, a self-hating homophobic and a bitter child abuse victim. However, these did not deter her from standing out but instead intensified her resolve to advocate for marginalized people and to achieve a professional career.
The publication of "Po' White Trash & Lint Heads: A Memoir" offers readers a white girl's perspective on mental illness, LGBTQ+ issues, the plight of people of color and racism. When asked what she wants readers to take away from her life story, Kennedy says, "Possibilities and hope; encouragement to create a life filled with compassion, integrity, purpose, creativity, and success."
To purchase a copy of the book, visit https://www.amazon.com/Po-White-Trash-Lint-Heads/dp/1728332508.
"Po' White Trash & Lint Heads: A Memoir"
By Rebecca Kennedy
Hardcover | 6 x 9in | 354 pages | ISBN 9781728332499
Softcover | 6 x 9in | 354 pages | ISBN 9781728332505
E-Book | 354 pages | ISBN 9781728332482
Available at Amazon and Barnes & Noble
About the Author
Rebecca Kennedy's accepting "difference" brought her to embrace her identity as progressive Christian, advocate/activist for marginalized people and lesbian. She grew up in the South amid poor White Trash and Cotton Mill cultures. She never should have been a university professor and a dean, since her schooling prepared her for life in cotton mill. She believed roadblocks to her dreams were hurdles designed to keep the poor, the oppressed, and people of color in "their place." She received her doctoral degree from the University of North Carolina at Greensboro. She enjoyed her first career as a university professor and dean. Writing is her next career. She and her wife live in Washington, with their seven adopted senior rescue dogs. Their two sons and their wives, along with their children reside in nearby states. "Po' White Trash and Lint Heads: A Memoir" is her first non-academic book. Rebecca is retired from her life as an academic, but not retired from life. Presently, she is a coordinator of a Cold Weather Shelter for people experiencing homelessness. Also, she serves as a lay preacher in her church. She is active in advocacy for immigrants, LBGTQ+ people, and transgender people.