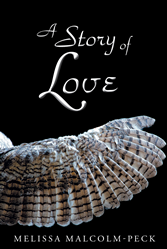 "My story shows the tremendous opportunities for step-up transformation that await us within life-changing events," said Malcolm-Peck.
DENVER (PRWEB) January 21, 2020
Life comes with many hardships that shape an individual's perspective of the world. "A Story of Love" by Melissa Malcolm-Peck is a raw and honest memoir about facing death and finally learning to live. Throughout this autobiography, readers will get a glimpse into the author's life as a mother of three who survived numerous heart attacks and her transformational voyage toward trust, forgiveness and gratefulness. After her journey, Malcolm-Peck has passed away and her three daughters have come together to bring their mother's inspirational story to life.
Readers will experience Malcolm-Peck's life altering adversities that lead her to finding the key to perfect health and to healing her heart. The author elevates pain into an offering and her words evoke transformation. During her healing process, she invited God into her relationships and believed in his power which transformed her into the woman she was born to be. Malcolm-Peck's journey will provide a fresh perspective on healing and spirituality.
"My story shows the tremendous opportunities for step-up transformation that await us within life-changing events," said Malcolm-Peck. "This memoir is an uplifting account of a family who struggles through hardships and overcomes them with a deeper love for life and an infections joy for living."
Malcolm-Peck's story embodies living life to the fullest regardless of the obstacles that may arise. Her memoir embraces the benefits of healthy living and relationships. Her daughters' goal for this book is to inspire individuals to live their lives being the best person they can be. Publishing their mom's book has been a part of their healing process after losing the woman they looked up to and loved so deeply.
"The book has been a cornerstone to my healing following the death of my mother. Her words have come to life and given her a new life after she passed," said Malcolm-Peck's daughter, Jacqueline. "She continues to speak power and inspiration into my life through the messages in the book."
"A Story of Love" is a celebration of being remolded and allowing a shattered life to be rebuilt and a body renewed despite the doctor's prognosis. Readers will be fascinated by Malcolm-Peck's journey to recovery and will be inspired by her strength.
"A Story of Love"
By Melissa Malcolm-Peck
ISBN: 978-1-9736-6165-8 (softcover); 978-1-9736-6166-5 (hardcover); 978-1-9736-6164-1 (eBook)
Available through Amazon, Barnes & Noble and WestBow Press
About the author
Melissa Malcolm-Peck was a survivor of four heart attacks, a beloved mother and wife who lived her life fiercely. She was a guest editorial writer for the Boulder Daily Camera and her short story "Passing Love On," won first place at the Maui Writers Conference – the first narrative non-fiction to ever win. Her number one dream in life was to become an author and publish her manuscripts. Malcolm-Peck passed away on July 23, 2015 and is survived by her three daughters who have come together to finish her memoir to make her dream a reality. "A Story of Love" is the first book out of three that Malcolm-Peck's daughters will publish on her behalf. For more information, please visit http://www.astoryoflovebook.com.
For general inquiries, interview & review copy requests contact:
LAVIDGE
Grace Bywater
480-998-2600 x 534
gbywater(at)lavidge(dot)com