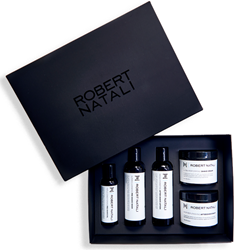 LOS ANGELES (PRWEB) November 27, 2019
Men, on average, spend the equivalent of 45 days of their lives shaving. With all of that shaving time—and serious wear and tear—it's essential that they take care of their skin. And now Robert Natali makes it easier than ever. Pure ingredients meet pure performance with RN's new line of sophisticated shaving and skincare essentials. Custom crafted from organic, natural and plant-based ingredients, they safely support healthier, more vibrant skin. Consider their signature shave cream. It not only provides a closer, more comfortable shave; it conditions skin at the same time. In fact, it's so nourishing and rejuvenating that Robert Natali (pronounced Na-TAH-lee) recommends massaging in the lush, residual cream after shaving. They also suggest hiding the jar from one's spouse. (Yes, it's that good.)
A spa-caliber skin treatment in every shave
Robert Natali has redefined shaving. It's no longer just about getting a great shave; it's about doing something great for the skin. At least 50-60% of men in the US report having some degree of sensitive skin—and shaving is the most common cause of irritation. Robert Natali shaving essentials are specially formulated to help eliminate or minimize razor burn, chafing, nicks, dry skin, ingrown hairs and more. Instead of shaving taking a toll on skin, RN's shaving products help improve it. What was once a tedious chore is now a luxurious, self-care ritual. By using RN's Essential Shave Set (pre-shave wash, pre-shave oil, shave cream and either after shave balm or lotion) for each step of their grooming regimen, men can enjoy a spa-caliber skin treatment with every shave. They can see and feel the difference—immediately!
The new face of men's personal grooming
A recent study by Environmental Defense finds that men's products such as deodorant, aftershave and shaving cream, contain toxic chemicals with links to cancer, sperm damage and other health problems. Not so with Robert Natali. Their shaving and skincare essentials are free of harmful additives including parabens, phthalates, artificial colors or fragrances, GMO ingredients and gluten. Vegan and earth friendly, they are produced without animal testing. As the company insists on full transparency, all ingredients are proudly displayed on their product labels and website. And RN brings the same uncompromising quality to their world-class gifts. With a full line of personal care essentials already in the works, Robert Natali is set to become the new face of men's grooming.
Robert Natali creates pure shaving and skincare essentials for men. All products are custom crafted from organic, all-natural and plant-based ingredients to provide a superior grooming experience while supporting healthier, sexier skin.
For more information, please contact Robert Natali at contact@robertnatali.com.