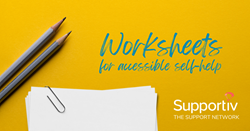 Use a worksheet once if you just need a prompt for self-help. Or, use many in the collection in order to transform the thoughts, feelings, or habits that have caused you emotional distress.
BERKELEY, Calif. (PRWEB) November 04, 2021
Mental health resources often make a tradeoff between ease-of-use and efficacy. On one hand, the most easily accessible "quick fixes" typically focus on "band-aid" level coping with mental health issues. On the other hand, the most efficacious mental health solutions address the long-term healing process, but aren't accessible in the form of a simple exercise or tool.
Coping skills are bite-sized solutions that help in the moment but don't impact whether the issue occurs again. Healing has its challenges, too. It involves self-reflection and requires a commitment to constructing new habits. Healing is most often achieved through months of work in therapy–but that's just not an affordable or available option for many, especially given the current national therapy provider shortage.
To bridge the gap between coping skills and healing, Supportiv (https://supportiv.com) presents a series of "healing tools," in the form of printable worksheets. Curated from acclaimed self-help books and therapy concepts, these worksheets blend the best of coping and healing. They contain exercises, thought re-frames, and reflective questions that can both help in the moment, and also change unhelpful patterns more permanently. Worksheet topics in the newly published collection are available at https://www.supportiv.com/worksheets and include:

Spark Action On A Daunting Task
Deconstruct Your Fears With This CBT Guide
Turn People-Pleasing Behaviors Into Self-Protective Ones
Identify Your Unhelpful Reactions To Stress
Re-Balance Yourself With A Life Inventory
Flooded By Self-Hatred? Transform Your Inner Critic
Cope With Shame By Creating An Internal Ally
Track Your Pre-Crisis Patterns
Build Assertiveness Skills
How Healthy Are Your Closest Relationships?
A Menu For Improving Personal Boundaries
Improve Your Self-Worth Through Reflection
Boost Your Social Skills With 3 DBT Techniques
Learn To Take A Compliment
Balance Your Wellbeing With Others' Expectations
Solidify Your Healthiest Relationships
An Alternate Approach To Gratitude Journaling
Process Your Stages Of Grief
If You Can't Resolve Your Pain, Mindfully Notice It
Acknowledge Feelings That Are Tough To Admit
Anger Cheat Sheet: Questions To Ask Yourself
Get Comfortable With Unfamiliar Emotions
Make A Personal Emotional Safety Plan
If You Were Bullied, Release The Pain
Write A Letter To Your Younger Self
Increase Your Tolerance For Emotional Discomfort
Defuse Dread
Keep Your Emotions From Snowballing
Get Out Of A Rut
When You Want To Collapse, Lean Into It
Use Social Relationships To Heal
Overwhelmed? Reduce Sensory Stimulation
How Would You Like Your Relationships To Feel?
When You Need A Hug But Nobody's Around, Do This
An Accomplishment Inventory For When You Feel Lousy
Start Seeing Your "Weird" Qualities As "Unique"
Start Looking Forward To The Next 12 Months
Build Optimism Through Gratitude Journaling
Does Your Relationship Need A Boundary Contract?
As Supportiv Co-Founder Pouria Mojabi explains: "Use a worksheet once if you just need a prompt for self-help. Or, use many in the collection in order to transform the thoughts, feelings, or habits that have caused you emotional distress."
Helena Plater-Zyberk, Supportiv CEO and Co-Founder, elaborates, "These worksheets can help people not just cope with but also heal from long-term mental health struggles like: self-isolation, loneliness, zoning out, catastrophizing, trauma from past experiences, feeling stuck in behavior patterns, and more."
Supportiv's resource collection is an extension of its on-demand peer-to-peer chat service. By typing a few words in response to the question: "What's your struggle?" users are matched in under a minute to topic-specific peer-to-peer group chats for anonymous support – from loneliness to virus anxiety, from job struggles to depression, and from trauma to numbness. Even experiences regarding disability, stigma, and discrimination are up for discussion in Supportiv's anonymous peer support chats.
Supportiv has already enabled over 700,000 users to feel less lonely, anxious, stressed, misunderstood, and hopeless through its moderator-guided chats with AI-driven content and resource recommendations. The peer support network is available instantly at https://www.supportiv.com.