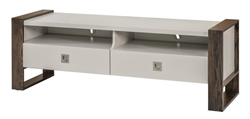 Homeowners looking for trendy, yet superbly-built furniture for the entertainment area in their houses, condos or apartments will love our Point Breeze TV Cabinet.
SHIPSHEWANA, Ind. (PRWEB) February 05, 2020
At first glance, the new Point Breeze TV Cabinet from Weaver Furniture Sales of Shipshewana, Indiana, looks like a modular piece of furniture that's popularly available at big box stores and popular franchise furniture stores. But the TV console is Amish custom-built from solid hardwood.
"Homeowners looking for trendy, yet superbly-built furniture for the entertainment area in their houses, condos or apartments will love our Point Breeze TV Cabinet," says LeRoy D. Weaver, owner of Weaver Furniture Sales.
The open bays of the TV cabinet are ideal for items like a DVD player, cable box and stereo system. A cord hole at the back on each side facilitates easy hookup.
The drawers easily accommodate DVDs, Blu-rays and CDs. Each drawer is securely built with dovetail joints, which are renown for strength and durability. In addition, the drawers come with a soft-close feature. So closing them is as simple as a gentle push.
As an option to the two-section design, customers can request the Point Breeze TV Cabinet with a three-section design. It has four soft-close doors, two in the middle section and one each on the side sections. Also, this version of the Point Breeze TV Console has an adjustable shelf in each section.
Although it might not be apparent from looking at it, the Point Breeze TV Stand is custom-built from solid hardwood. In fact, Amish cabinetmakers, the best in the Midwest, painstakingly handcraft each unit. Also, the furniture craftsmen use quality regional hardwoods, like cherry, oak, hickory and maple to build this tv stand and other tv stands available in the Weaver Funiture Sales inventory. The center part of the console is painted gray, while the outside is given a dark stain. However, customers can order the TV stand unfinished or choose any color that works for them.
The Point Breeze TV Stand can be ordered online or, customers can visit Weaver's 'brick and mortar' store in Shipshewana, Indiana.
About Weaver Furniture Sales
The store is open daily from 9 a.m. to 5 p.m. and 9 a.m. to 4 p.m. on Saturday. The store is closed on Sunday. The 20,000 square foot Weaver Furniture Sales is located 1/4 mile south and 1/4 mile east of the junction of State Road 5 and US 20 in Shipshewana, Indiana. So the store is easy to find. You can take your furniture with you. Or, Weaver Furniture Sales can arrange delivery for its customers.
For more information, visit Weaver Furniture Sales or call 260-768-7730.
Weaver Furniture Sales was established in 1989 in Shipshewana, Indiana. An Amish, family-owned furniture business, Weaver offers a full line of solid wood, Amish furniture at affordable prices. And Weavers caters to both residential and commercial customers. The company features Shaker, Mission and Traditional furniture styles. As part of their client services, Weavers provides furniture design consultation services, custom furniture options, furniture quotes, layaway options and various delivery alternatives for residences and businesses in the United States.
LeRoy and Ida Weaver own and operate Weaver Furniture Sales. They began with a 1,500 square foot showroom, which has been expanded to more than 20,000 square feet. Previously, they owned and managed LeWana Dairy Farm, where they milked cows and raised corn and hay.