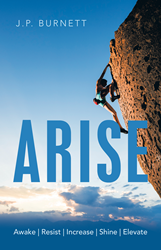 TUNAPUNA, Trinidad and Tobago (PRWEB) November 29, 2021
Many individuals are looking for a way to make their mark in the world. In J.P. Burnett's debut book, "ARISE: Awake | Resist | Increase | Shine | Elevate," he encourages readers to elevate to the place God designed for them to be and ARISE to life's possibilities. Burnett came up with this acronym to illustrate how one can awake, resist, increase, shine and elevate with the help of the Lord.
The book is written to inspire individuals who feel stuck but know that there is more in store for them. Burnett wrote this book to motivate others to follow God's plan. "ARISE" is designed to take readers from a place of stagnancy to being able to write a vision, resist negativity and elevate to being who God wants you to be. Throughout the book, Burnett focuses on spirituality and mentality to help guide a path to progress to the next level in the reader's personal and professional lives.
The author is coaching his audience on each page of the book, showing readers areas they can improve in and helping them to take steps to ARISE. The exercises Burnett provides are practical and encouraging and will help individuals adapt their everyday life with God by their side.
"ARISE started from my 2020 New Year's message," said Burnett. "'In spite of… You are still here… He has kept you; you have purpose to fulfill.' The sermon really resonated with me, and then the acronym became clear. I was stuck in a rut in certain areas and knew there was more to life in the eyes of God. I wanted to fulfill that life and provide easy steps for readers to do the same."
Ultimately, "ARISE" will engage readers with the call to action sections, which gives them time to reflect and develop their plan to ARISE. By the end of the book, Burnett's desire is that you will be uplifted and empowered by God to live the life He intended for you.
"ARISE: Awake | Resist | Increase | Shine | Elevate"
By J.P. Burnett
ISBN: 978-1-6642-4084-1 (softcover); 978-1-6642-4085-8 (hardcover); 978-1-6642-4083-4 (eBook)
Available at WestBow Press, Amazon and Barnes & Noble
About the author
J.P. Burnett is a fresh new inspirational author with a healthy outlook on life and a passion for helping persons live up to their God-given potential. He is an ordained minister with the Wesleyan Holiness Church and currently serves as the senior pastor of a vibrant church in the Caribbean. Burnett is the holder of an MBA from Heriot-Watt University, U.K. and has partnered with national and community organizations in advancing Youth development. He has served in several ministries, including Couples, Men's and Youth ministry. Burnett is a dedicated husband and amazing father of two young children.
General Inquiries:
LAVIDGE – Phoenix
480-998-2600
gconnor@lavidge.com