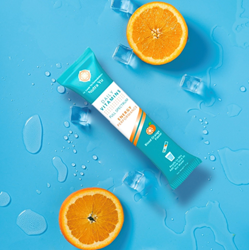 "Pure Australian Ocean water is gathered and then undergoes our proprietary, multi-stage solar concentration process. Once the solution has reached our prescribed density and concentration of key minerals, it is then dried, using low heat technology."-Dr. Louie Yu
LOS ANGELES (PRWEB) April 07, 2020
Are you looking for energy boosts that last all day long? Perhaps you need to add extra hydration at the cellular level? The days of choosing one benefit over another are over! The newest company to hit the multivitamin market is revolutionizing the way we get minerals and nutrients from Mother Nature.
Nutra Yu provides 100% natural vitamins and high quality minerals from the deep ocean all in a compact, tasty powder you can add to your drinks. Boasting a wide variety of multivitamins (such as Vitamins C and E), minerals, antioxidants, and amino-acids, Nutra Yu is specifically designed to provide all day energy boosts, complete hydration, and more, within the first use. Nutra Yu is available in three flavors - Blood Orange for Vitamins and Green Apple & Wild Berry for Electrolyte Powder.
Nutra Yu provides a Premium Hydration experience for all of their clients, from first time users to returning customers; their product comes from Mother Nature herself. Gathered from the deep oceanic water of the great Australian barrier reef, Nutra Yu's products provide complete mineral complexities in their most natural form, meaning their clients will receive needed cellular hydration and rejuvenating energy throughout the day.
When asked about the unique process by which they extract these high quality minerals, founder and CEO of Nutra Yu, Dr. Louie Yu, had this to say:
"Pure Australian Ocean water is gathered and then undergoes our proprietary, multi-stage solar concentration process. Once the solution has reached our prescribed density and concentration of key minerals, it is then dried, using low heat technology."
It's the low heat technology that ensures that all of the minerals and vitamins found in Nutra Yu aren't lost in the production process. Instead, they are further compacted into a drinkable, yummy powder that can easily be added to a glass of water any time of the day for added hydration and energy.
Nutra Yu is a company that stands behind their superior products and ensures that their customers are receiving the best, highly beneficial mineral solutions that will positively impact their lives.
For more information on Nutra Yu's ingredients, superior mineral and vitamin products, visit https://nutrayu.com/ today and change your life! For media and interview requests, please contact Tack Media digital marketing agency.