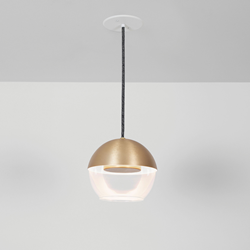 "Absolutely beautiful design, it's wonderful to see the traditional glass globe pendant reimagined in such a unique way"
MILWAUKEE (PRWEB) October 30, 2020
The Muse design utilizes a light source that appears to float inside the glass. This design allows light to project onto the reflective white inner surface of the globe, illuminating the orb. An echo of the upper dome is reflected in the transparent lower globe, creating an eye-catching ring of light that moves with the viewer.
Even with these reflections the true light source is still not revealed, resulting in a pleasant, glare-free experience. The positioning of each component has been tailored to create the desired effect without revealing any exposed diodes from outside the luminaire.
The Muse pendant is appropriate for spaces such as reception desks, private offices, conference rooms, restaurant and cafe spaces, as well as foyer or lobby areas. Depending on the chosen finish and whether the pendant is suspended alone or in multiples, the aesthetic fits minimalist commercial interiors as well as spaces that are more intimate or visually nuanced.
Muse is constructed with an 8"-diameter glass globe, a spun aluminum top cap finished white on its inside, and an inner source disk finished to match the outer cap. The metal cap and source disk can be finished with any of Visa Lighting's extensive standard or custom powder coat finish options, or their exclusive eco-friendly alternative metal finishes for a premium look. The pendant is suspended via charcoal linen covered power cord.
Learn more about Muse here.
About: Visa Lighting manufactures performance architectural luminaires for commercial and institutional building projects. As a lighting industry leader for over 100 years, Visa Lighting combines technical innovation and artisanship to craft luminaires that transform their environments with light. Each product is designed, engineered, and assembled by skilled craftspeople in Milwaukee, WI. Visa Lighting is an Oldenburg Group company.