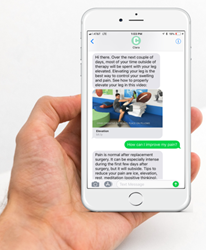 The Clara Digital Coach was very helpful. Best way to get information before and after surgery, especially when you need help. I didn't want the messages to end. They are my support every day!
MINNEAPOLIS (PRWEB) March 05, 2020
MyComfortMD® announced that it has released the innovative Clara text-based digital coach chatbot for patients scheduled to go through a total knee replacement surgery. Clara sends daily reminders, instructions, and inspiration directly to the patients' phone using text messages. The Clara chatbot can also answer many patients' questions in a two-way text conversations driven by artificial intelligence.
Surgeons Created a Surgery Digital Coach Chatbot
In order to leverage technology to improve patient care, three surgeons pioneered a clinically validated set of surgical instructions that's captured the hearts and minds of knee replacement patients. The SMS-based chatbot coaches patients before and after surgery by delivering informative and empathetic content that's been clinically shown to improve patient satisfaction and outcomes. The chatbot's effectiveness lies in its ability to truly engage patients, who proclaim that the text messages become an integral part of their daily life throughout their surgical journey.
What does the Digital Coach Chatbot Look Like?
The Chatbot uses standard SMS text messages that we all use on our phones every day. There are no apps to download on your phone, worries about privacy, or companies intercepting your data. After you purchase Clara, enrollment instructions are sent via text, and you enroll directly from your phone entering your surgery date. Then Clara will send you the proper time sequenced information that is relevant for the stage you are in your surgical journey. You can see Clara in action in this video.
Does Clara Work? Yes - Positive Results in the 2019 Study on Digital Coach Chatbots
To understand whether a digital coach chatbot is effective, a study was conducted by physicians at Department of Orthopedic Surgery, Rush University Medical Center, Chicago, Illinois and the Department of Interventional Radiology, University of Washington, Seattle, Washington. The purpose of this study was to evaluate the effectiveness of a text-messaging (Short Message Service [SMS]) bot with respect to patient engagement following joint replacement procedures in a randomized clinical trial. The results of this study were published in The Journal of Bone and Joint Surgery (JBJS) on January 16, 2019 report: A Novel, Automated Text-Messaging System Is Effective in Patients Undergoing Total Joint Arthroplasty. The link to this JBJS study is on the Clara product page.
Clinically Proven Results
The report found significant positive outcomes:
1. Clara patients stopped their narcotics 10 days sooner than those without Clara's messages.
2. Clara patients exercised for 8.6 minutes more daily when compared to users who did not use Clara.
3. Clara patients registered an improved mood (more positive).
4. Clara patients placed fewer phone calls to their surgeon's office.
5. Clara patients had greater range of motion 3 weeks after surgery.
6. Patients with Clara had fewer visits to the emergency room.
Patients Love the Clara Chatbot
Many patient testimonials have shown the benefits of the Clara Digital Coach such as:
"This is the best idea ever to keep in contact with patients via text and lead them through the recovery process & physical therapy exercises. I always looked forward to getting my text messages and they were always pertinent to where I was & what I was thinking in the post-surgery process. Thank you!"
"The text messages reminded me to perform different exercises in a timely manner and be patient with the recovery during painful time from the surgery. It makes you feel like you're not alone in this long process! What a great concept, really glad I had it for my knee replacement."
"The Digital Coach was very helpful. Best way to get information before and after surgery, especially when you need help. I didn't want the messages to end! They are my support every day!"
How Do I Learn More or Purchase the Digital Coach Chatbot?
You can find more information on the Clara Digital Coach and the other MyComfortMD knee surgery recovery products that complement Clara's instructions on the MyComfortMD website.