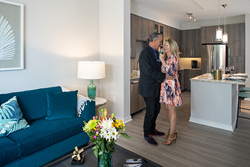 "At Allegro, we always feel as if we're staying at a five-star resort or on a luxurious cruise ship. Best of all, the people that work here are very accommodating, friendly and professional to both guests and visitors alike." - Cesar & Andrina
DORAL, Fla. (PRWEB) February 05, 2021
When the time comes to downsize, a lot of South Florida seniors make the decision to move to a community that is designated as 55+. They want neighbors their same age, who have similar interests.
There is a community in Doral that definitely fits the bill. It is Allegro 55+, which used to be known as Allegro Doral. Exclusively for active adults, Allegro offers a premier 55+ community with luxurious amenities. Residents have access to premium personal services through Allegro's Concierge, while the community's Resident Experience Director guides residents to experience a lifestyle where no two days are the same.
"From Day One our community in Doral has been exclusively for active adults who want a hassle-free lifestyle and to enjoy luxury living in South Florida at its best. We feel the new name makes it more clear what we are," said Maria Goicoechea.
Allegro 55+, which welcomed its first residents in 2019, is located at 4720 NW 85th Avenue in Doral. The community is surrounded by plenty of greenery, including mature palm trees. It overlooks Osprey Lake, giving residents access to an amazing water-front view in the heart of the city.
The great view is just the tip of the iceberg though. Living life at Allegro is full of possibilities. "Each of our residents has unique needs, interests, and hobbies that shape their lifestyle. At Allegro, we strive to create experiences that inspire, imagine and innovate through every level of care," said Goicoechea.
There are five different floor plans available in the eight story-tall, waterfront apartment building, ranging in size from 800 to 1,357 square feet. The smallest apartment is the one-bedroom, one-bath Sonata. The largest is the two-bedroom, two-bath Symphony model.
All apartments feature hardwood floors and large kitchens with granite countertops and stainless-steel appliances. Bathrooms are luxuriously large as well. Each apartment comes equipped with a large balcony from which residents can bird watch and enjoy the warm weather.
Included in the price of rent are access to an onsite pool & terrace, fitness center and yoga studio, a movie theater, and hair & nail salon. There are plenty of gathering places both inside and out, including a sit-down bar, covered patio, great room, library, cards and game room and a large lobby.
Residents also have access to garage parking, housekeeping and transportation services. Plus, there is a concierge at the front desk during business hours who can assist with the various services residents may need on occasion, such as dry cleaning, pet services, housekeeping and more. In addition, the community is pet friendly.
"Living life at Allegro 55+ is like living full time in a luxury hotel. Anything our residents need is at their fingertips. All they have to do is ask," said Goicoechea.
In addition to all the amenities inside, Allegro 55+ is conveniently located steps away from Downtown Doral and just one mile from Miami International Airport as well. Plus, there are plenty of shops and restaurants within walking distance.
Because Allegro 55+ offers both short and long-term leases, it is the perfect place to either stay for an extended business trip or settle for the long haul. To learn more about Allegro 55+, visit the community's website: Allegro55.com, or call 786-837-7726.
# # #