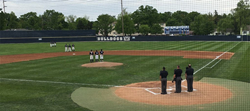 We're thrilled to be working with the Butler University baseball program to offer a Nike Baseball Camp in Indianapolis.
SAN RAFAEL, Calif. (PRWEB) February 17, 2020
Directing the Nike Baseball Camp at Butler University will be Assistant Coach Jacob Ratz, who will be accompanied by the Bulldog coaching staff and players.
The Butler baseball program has turned a corner under the direction of Head Coach Dave Schrage and his coaching staff. Entering his fourth season, Coach Schrage and the Bulldog program are looking forward to another strong season. At camp, players are offered an exciting opportunity to work with the Butler coaching staff, with each ballplayer fine-tuning their fielding, hitting, base-running skills, and enhancing their confidence and knowledge of the game.
The coaching staff creates an environment where athletes can learn, grow, improve their game, and walk away from camp with new friends and a smile. The Butler University baseball camp will run August 3rd – 6th from 9 a.m. – 4 p.m. The camp will be held at Bulldog Park, located just behind Hinkle Fieldhouse and the Butler Bowl. The stunning Bulldog Park provides an exciting setting for all youth baseball players to improve in college facilities.
"We're thrilled to be working with the Butler University baseball program to offer a Nike Baseball Camp in Indianapolis," states Josh Scriven, Nike Baseball Camp manager. "This is an exciting opportunity for athletes across Indiana to come and play at Bulldog Park, and train with excellent college coaches and players. It's sure to be a summer highlight of any aspiring ballplayer."
Nike Baseball Camps provide focused, intensive training that is essential to improvement for all skill levels. Every facet of the game is covered with an emphasis on fundamentals to help players become valuable team members. At each location, campers are broken into groups with other players of similar age, abilities and goals. Each camp director does their best to advance players to the next level, keeping in consideration each camper's experience and desire to improve.
Registration for 2020 is now open for campers ages 8-18. Players, coaches, and parents can visit Nike Baseball Camps for more information.
About US Sports Camps
US Sports Camps (USSC), headquartered in San Rafael, California, is America's largest sports camp network and the licensed operator of Nike Sports Camps. Over 91,000 kids attended a US Sports Camp program in 2018. The company has offered summer camps since 1975 with the same mission that defines it today: to shape a lifelong enjoyment of athletics through high quality sports education and skill enhancement. Athletes, coaches, parents and others interested in learning more about our 2019 Sports Camp programs can visit our website or call 1-800-645-3226.