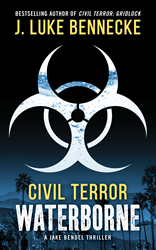 We need to be proactive when solving the drought so we're not blindsided by terrorists.
CHERRY VALLEY, Calif. (PRWEB) November 25, 2019
During the summer months, every Californian uses about 120 gallons of fresh water per day. This, coupled with a devastating drought likely caused by global climate change, had a veteran civil engineer thinking of a simple solution: desalination plants located at strategic locations along 850 miles of Pacific Ocean coastline.
"Desalination plants are notorious energy hoarders," said author J. Luke Bennecke, a professional licensed civil engineer. "But pairing the plants with a relatively new form of cheap, safe nuclear power, molten salt reactors, would provide an abundant source of fresh, clean drinking water and a solution to the drought."
Bennecke takes a fictional dive headfirst into the question of what might happen if the water supply is contaminated in his new page-turning novel, Civil Terror: Waterborne. In this thriller, terrorists weaponize the water using modified viruses edited by new CRISPR technology.
"We need to be proactive when solving the drought so we're not blindsided by terrorists," Bennecke said. This possibility is not as far-fetched as it might have once seemed.
Following Bennecke's bestselling first installment, Civil Terror: Gridlock, in the second of what will eventually be a three-book series, Civil Terror: Waterborne centers on civil engineer Jake Bendel. Far from the usual genre hero, Bendel works for the governor of California, where they have designed and constructed three "plant pairings," in which modern desalination plants have been built next to molten salt reactors. When Californians start getting sick with flu symptoms from tainted drinking water, Jake uncovers a secret network of wicked terrorists planning catastrophic genetic modifications to the state's male population. Bendel and his unlikely partner, a rogue FBI agent named Jose Cavanaugh, work to track down the twisted terrorist group leader before all hell breaks loose.
Civil Terror: Waterborne by J. Luke Bennecke
Publisher: Jaytech Publishing
364 pages
Softcover | ISBN 9780965771542
E-book | ISBN 9780965771535
Publication Date: 11/12/2019
Available on Amazon in paperback and Kindle formats.
Review copies available upon request.
About the Author:
J. Luke Bennecke is a native Californian and veteran civil engineer who has spent his career helping people by improving Southern California roadways. In addition to his first book, Civil Terror: Gridlock, which became an Amazon bestseller, Bennecke has written several novels and screenplays. He has a BS in civil engineering from Cal Poly Pomona, an MBA from Cal State San Bernardino, a private pilot's license, and is a partner in an engineering firm based in Riverside. As a philanthropist he awards scholarships annually to high school seniors at his alma mater. Bennecke resides in Southern California with his wife of 30 years, whom he enjoys traveling with, and three spunky cats. In his leisure time he spends his hours flying, learning about innovative tech, playing golf, and catching up with his grown daughters. Bennecke is a member of International Thriller Writers and looks forward to attending ThrillerFest every year in New York.
Connect with J. Luke Bennecke online at http://www.jlukebennecke.com
Twitter: @jlukebennecke Facebook: https://www.facebook.com/jlukebennecke
LinkedIn: https://www.linkedin.com/in/bennecke/