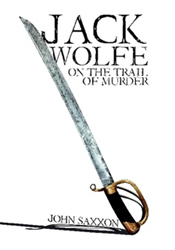 MACDUFF, Scotland (PRWEB) January 14, 2019
John Saxxon marks his debut in the literary limelight with the release of "Jack Wolfe: On the Trail of Murder" (published by Lulu), a novel charting the plight of a heroic officer who must survive in a war and serve justice for the death of a close friend.
To purchase and know more about the book, readers can visit http://www.lulu.com/shop/john-saxxon/jack-wolfe-on-the-trail-of-murder/paperback/product-23664793.html.
Set between 1854 and 1861, the book tells an action adventure story that starts in the Crimean War and finishes in the American Civil War. Readers are introduced to Jack Wolfe, a British soldier who must fight his way across Europe and the East Coast of America on a quest for justice. Inspired by the Saxxon's personal experiences and interest in history, the book surprises readers with many twists, intriguing mix of societal issues and a balance of humor and action scenes.
"It's basically the adventures of a wild west sheriff without the badge and not in the wild west!" the author shares.
When asked what he would like to impart to readers with "Jack Wolfe: On the Trail of Murder," Saxxon says, "First, escaping into a great story! For me, that is the most important point of a fiction book. But this story also gives the satisfaction of seeing justice served, something that doesn't happen as often as we'd like in the modern world. I'd also say being honourable in your actions and listening to your instincts."
"Jack Wolfe: On the Trail of Murder"
By John Saxxon
Softcover | 5.83 x 8.27in | 254 pages | ISBN 9781483478975
E-Book | 254 pages | ISBN 9781483478968
Available at Amazon and Barnes & Noble
About the Author
John Saxxon grew up in Lancashire, England, but his parent's love of travel filled his childhood with castles, old battlefields, living history and exotic cultures. Hearing stories of his father's service in World War II sparked a further interest in military history. The memories of visiting far off places, talking to his father about the war and a love of reading, especially action books and westerns, all feed into his settings and characters. His writing is inspired by his love of the history of the British Empire, the American Civil War and his English roots. Saxxon currently lives in Aberdeenshire, Scotland. "Jack Wolfe: On the Trail of Murder" is his first book to be published.
Lulu empowers people of all ages to explore and express their interests, passions and expertise through books, photography and art. Since introducing self-publishing in 2002, Lulu has empowered creators in more than 225 countries and territories to produce nearly two million publications. Lulu Jr. allows children to become published authors, encouraging creativity, strengthening literacy and building self-esteem. Picture.com offers professional photography of collegiate and professional sports, memorable and historic events, fine art and home décor. For more information, please visit lulu.com.