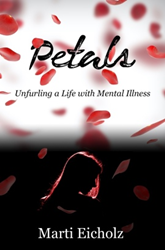 'Petals' offers a deeply poignant and introspective look into the many facets of mental illness, substance abuse and recovery, death, heartbreak, joy, and forgiveness.
SAN DIEGO (PRWEB) January 22, 2020
Addiction. Suicide. Poverty. These are just some of the social ills Marti Eicholz's latest novel, 'Petals,' touches upon. And if it's true that "art imitates life," then the characters leaping off the pages of 'Petals' are a testament that none of these societal concerns occurs in a vacuum.
'Petals' is a multi-generational story of everyday humans who must learn to cut their own paths amid the wild, yet heartbreakingly beautiful, garden that is life. Readers discover that many of the trials of the story's ultimate protagonist, Mary Turner, stem from generational trauma combined with the affliction of mental illness, specifically, bipolar disorder. As Mary unravels, her innocence and hope for the future wane. Her fragile state intensifies, exacerbated by the drugs and alcohol through which she seeks respite. Mary then unwittingly inflict wounds of her own on those who need her the most. Experiencing life through Mary's eyes, destructive behavior, however seemingly illogical and tragic, becomes comprehensible.
"'Petals' offers a deeply poignant and introspective look into the many facets of mental illness, substance abuse and recovery, death, heartbreak, joy, and forgiveness," says Eicholz. "It is through its diverse cast of characters that the reader is allowed a look into the minds and senses of all those touched by Mary's journey—for good or for ill."
While occasionally offering subtle clues to healthy relationships and helpful coping strategies, the lyrical prose of 'Petals' avoid any hints of becoming heavy-handed, moralistic or contrived. Rather, the insights naturally unfold through the characters' experiences and discoveries. Story remains paramount at each turn.
Eicholz takes the reader on a road trip of contrasting settings. From a rural home where a family sleeps quietly, to the sweaty, pulsing rhythm and strobe of a night club where drugs flow freely. From the pastoral countryside decorated with idyllic hay bales and orchards, to the glitz and glamour of the Las Vegas Strip—then descending to the vast network of hidden tunnels lying beneath the blinking lights of the city that serves as home to the city's destitute. From the healing vortexes of Sedona, into the dark and desperate gray walls of a prison cell.
"I hope the highs and lows of Mary's life keep the reader enthralled," says Eicholz. "I hope, through Mary, they will see that their own lives matter, and that most of life's joy is found in the quiet passages."
"There is no substitute for the power, simplicity, and basic truth of a well-told story," claims Eicholz. And that's precisely the literary bouquet the author offers to readers through 'Petals.'
'Petals' is best suited for readers who enjoy fast-paced action combined with a deeply emotional and introspective narrative.
'Petals' is published by eBookIt.com, and is available in eBook format at all major online eBook retailers. A print edition is expected in February 2020.
About Marti Eicholz
Marti Eicholz was born and reared in Indiana. She has graduate degrees in Education and Education Counseling. She was an Elementary School Teacher, Supervisor for Curriculum Development, Administrator of a Multi-Ethnic Middle School and a University Instructor. She and her husband live in California, where her time is spent listening to music, researching human behavior, playing bridge, and writing stories. She stated, "My writing is for me and for others like me who want to find a newer, better, gentler version of who they can be."
About eBookIt.com
Since 2010, eBookIt.com (based in Sudbury, Massachusetts) has helped thousands of authors and publishers get their books converted to eBook format, and distributed to all the major eBook retailers, including Amazon.com, Barnesandnoble.com, Apple iBookstore, Kobo, Scribd, Ingram Digital, and Google eBook store.