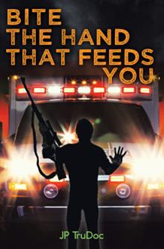 RIDGWAY, Colo. (PRWEB) October 29, 2019
JP TruDoc enters the world of fiction with the release of "Bite the Hand That Feeds You" (published by Archway Publishing). This novel, written from a physician's point of view, explores a dark corner of the American justice system and the world of unscrupulous government contractors, lawyers and judicial miscreants.
"I wrote a fictionalized exciting story about my firsthand experiences in battling for environmental justice for tens of thousands of displaced persons after Hurricane Katrina," TruDoc describes. "This vulnerable group of people were relocated into Federal Emergency Management Agency (FEMA) trailers that were contaminated with toxic formaldehyde emanating from uncured plywood glue outgassed into their living space."
The story takes readers into the fictionalized inner sanctum of litigation where toxic tort plaintiffs and defendants collide, battling for billions. It tells the story of one 13-year-old boy and his family who had to endure the tragedy of a debilitating exposure. Formaldehyde takes its toll on lungs, skin and life itself. After Hurricane Katrina has blown away their hopes and dreams, the injured seek justice while the system laughs in their faces.
Dr. Tristan P. Baines, engineer, physician, survivalist and the expert for Katrina plaintiffs, finds himself targeted by the violent rogue organization, The Resistance that is determined to stop his efforts to obtain justice for this little boy, along with other plaintiffs. As the story unfolds, readers embark on a dramatized quest for environmental justice in the midst of chaos and mortal danger within a toxic tort litigation system running amok.
"Bite the Hand That Feeds You" is a cautionary tale warning persons in need that what is offered free may not be without liability and risk. It is for general readers, but is formulated deliberately to challenge those who are interested in the science of depicted exposures and injuries. To purchase a copy and know more about the book, visit https://www.amazon.com/Bite-Hand-That-Feeds-You/dp/1480877824.
"Bite the Hand That Feeds You"
By JP TruDoc
Hardcover | 6 x 9in | 480 pages | ISBN 9781480877832
Softcover | 6 x 9in | 480 pages | ISBN 9781480877825
E-Book | 480 pages | ISBN 9781480877849
Available at Amazon and Barnes & Noble
About the Author
James P. Kornberg, MD, ScD, aka JP TruDoc is an MIT, Harvard and Dartmouth trained clinical physician-engineer, author and medical-legal expert who has treated and/or evaluated tens of thousands of persons afflicted with every conceivable type of hazardous substance exposure. He has consulted on over 900 important toxic tort litigation cases since 1980. He lives with his wife, Sally, on their remote ranch in the mountains of southwestern Colorado. He is also the author of "The Workplace Walk-Through" (ISBN 978-0873716208), a textbook dedicated to providing physicians with more advanced operational guidelines in occupational and environmental medicine.
Simon & Schuster, a company with nearly ninety years of publishing experience, has teamed up with Author Solutions, LLC, the leading self-publishing company worldwide, to create Archway Publishing. With unique resources to support books of all kind, Archway Publishing offers a specialized approach to help every author reach his or her desired audience. For more information, visit archwaypublishing.com or call 888-242-5904.