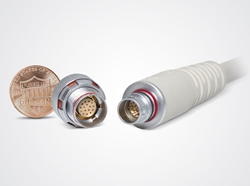 CAMARILLO, Calif. (PRWEB) February 27, 2020
ODU, a worldwide leader in designing and manufacturing high-performance connector solutions and cable assemblies, is introducing to the US market ODU AMC® High-Density with Chrome-Plated surface and integrated silicone cable assembly solution.
ODU AMC® High-Density Chrome-Plated is a miniature connector solution design that provides the highest possible number of contacts in the most compact space. This connector solution combines numerous high-density signal configurations and customized versions for power, up to 15A, and high-speed data transmission.
Thanks to this chrome-plated surface, these connector series are highly robust and can be configured in many different ways, including autoclavable versions, high-density configurations, and a variety of sizes. Additional product features include watertight protection of IP6K8, up to 2 meters, high-speed data transfer capability: USB® 3.2 Gen 1x1*, USB® 2.0* and HDMI®*, compact and lightweight.
Applications used in harsh environments are prone to be exposed to extreme mechanical and chemical conditions. The new silicone-overmolded technology in our complete cable assembly solutions offers an easy to clean, no stick-slip effect and bend protection. This connector solution is ideal for medical, test and measurement, and industrial applications. For more product info go to: https://www.odu-usa.com/connector-solutions/push-pull-circular-connectors/odu-amc/odu-amc-high-density/
*These ODU specific connectors can transmit common data transmission protocols such as USB® 3.2 Gen 1x1, USB® 2.0, and HDMI® 2.0, but they are not USB®- and HDMI®- standard connectors.
ODU Group: Global Representation with Perfect Connections
The ODU Group is one of the world's leading suppliers of connector systems, employing 2,300 people around the world. In addition to its company headquarters in Mühldorf am Inn (Germany), ODU also has an international distribution network and production sites in Sibiu/Romania, Shanghai/China and Tijuana/Mexico. ODU combines all relevant areas of expertise and key technologies including design and development, machine tooling and special machine construction, injection, stamping, turning, surface technology, assembly and cable assembly. The ODU Group sells its products globally through its 12 sales offices in Denmark, England, France, Italy, Sweden, the US, China, Korea, Hong Kong, Japan, Romania and Germany as well as through numerous international sales partners. ODU connectors ensure a reliable transmission of power, signals, data and media for a variety of demanding applications including medical technology, military and security, automotive, industrial electronics, and test & measurement.