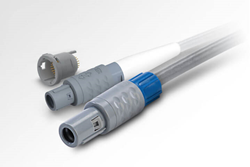 CAMARILLO, Calif. (PRWEB) May 14, 2021
ODU, a worldwide leader in designing and manufacturing high-performance connector solutions and cable assemblies, is introducing to the US market new disposable receptacles to the ODU MEDI-SNAP® portfolio, an Advanced Plastic Connector series.
The ODU MEDI-SNAP® is a plastic lightweight Push-Pull and Break-Away connector. This connector series is 75% lighter than comparable metal connectors, it is autoclavable, sterilizable, has high chemical resistance. IEC 60601-1 versions or configurations are also available.
The expansion of the portfolio will now include a one-piece disposable receptacle for front panel mounting including catheter handle mounting. The ODU disposable solution provides the user and patient protection required by IEC 60601-1 ( 2 MOOP / 1MOPP). These new receptacles have at least 25 mating cycles, a new space-spacing design with a maximum of 34 contacts, they benefit of a clip-in system for fast and easy assembly and they are a cost-effective solution for high-volume projects. These new receptacles are also intermatable with all ODU MEDI-SNAP® Push-Pull size 2 connectors.
The new ODU MEDI-SNAP® receptacles offer a solution for various medical applications including, but not limited to, catheters, electrosurgical devices, endoscopes, and ablation devices.
ODU Group: global representation with perfect connections
The ODU Group is one of the world's leading suppliers of connector systems, employing 2,300 people around the world. In addition to its company headquarters in Mühldorf am Inn (Germany), ODU also has an international distribution network and production sites in Sibiu/Romania, Shanghai/China and Tijuana/Mexico. ODU combines all relevant areas of expertise and key technologies including design and development, machine tooling and special machine construction, injection, stamping, turning, surface technology, assembly and cable assembly. The ODU Group sells its products globally through its sales offices in China, Denmark, England, France, Germany, Hong Kong, Italy, Japan, Korea, Romania, Sweden and the US, as well as through numerous international sales partners. ODU connectors ensure a reliable transmission of power, signals, data and media for a variety of demanding applications including medical technology, military, communications and security, automotive, industrial electronics, and testing & measurement.