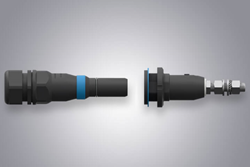 CAMARILLO, Calif. (PRWEB) July 10, 2020
ODU, a worldwide leader in designing and manufacturing high-performance connector solutions and cable assemblies, is introducing to the market ODU SPC 16, the robust single power connector solution.
The ODU SPC 16 is a robust single power high voltage and high current connector. This connector benefits of the ODU LAMTAC® technology, a high performance contact system with maximum current carrying capacity.
ODU SPC 16 has a robust housing made of engineered plastics and a bayonet locking system that ensures a quick and easy mating. The single power connector is IP65 in mated condition, can stand currents up to 615A/1,000 V, and has up to 5,000 mating cycles, making it a highly reliable and stable connector solution. Additional product features include: touch proof IP2X, operating temperature range of -40 °C up to +60 °C, crimp termination type for the plug and a screw termination for the receptacle, cable cross section of 150 / 185 / 240 mm² and 6 color coding options.
ODU's new high power connector solution, ODU SPC 16, is ideal for various applications, such as but not limited to stationary power distribution, emergency generators, and mobile power supply trucks. For more info go to: https://www.odu-usa.com/connector-solutions/electrical-contacts/odu-spc-16/
ODU Group: Global Representation with Perfect Connections
The ODU Group is one of the world's leading suppliers of connector systems, employing 2,300 people around the world. In addition to its company headquarters in Mühldorf am Inn (Germany), ODU also has an international distribution network and production sites in Sibiu/Romania, Shanghai/China and Tijuana/Mexico. ODU combines all relevant areas of expertise and key technologies including design and development, machine tooling and special machine construction, injection, stamping, turning, surface technology, assembly and cable assembly. The ODU Group sells its products globally through its sales offices in China, Denmark, England, France, Germany, Hong Kong, Italy, Japan, Korea, Romania, Sweden and the US, as well as through numerous international sales partners. ODU connectors ensure a reliable transmission of power, signals, data and media for a variety of demanding applications including medical technology, military and security, automotive, industrial electronics, and test & measurement.