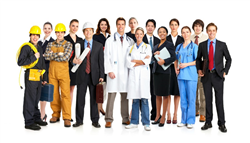 ENCINO, Calif. (PRWEB) October 22, 2020
According to the 2020 Workplace Safety Index by Liberty Mutual Insurance, disabling injuries in the workplace cost companies $59 billion per year. The report ranked the top causes of those injuries that lead to five or more days of work being missed. Topping the list are handling objects, falling, being hit by something, awkward postures, vehicle crashes, repetitive motions, and colliding with objects. This report sheds light on how important it is for businesses to ensure that their employees have safety training.
"Investing in online safety training courses for your company is going to save you a lot of money in the long run," explains Myron Curry, founder of Business Training Media. "It's important to ensure that both employees and managers have safety training, so that issues can be prevented. We help companies with all of their safety training needs."
The online safety training courses for employees and managers being offered by Business Training Media are aim to help create a safer work environment. They will also help provide employees with the safety skills they need to prevent accidents from happening. The safety courses are ideal for businesses, government agencies, manufacturing companies, oil and gas companies, and more. They are routinely used by safety and compliance managers, as well as human resource managers.
The online safety training courses cover such issues as falls, stacking and storing, accident prevention, office safety, ladder safety, and much more. Some of specific online safety training courses being offered include:

Stacking and Storage Practices for Construction
Slips, Trips, & Falls: Keeping Your Workplace Safe
Scaffold Safety Awareness Online Course
Fire Extinguisher Safety Online Course
Respiratory Protection Online Course
Accident Causes and Prevention Training Program
Office Safety Online Course
Defensive Driving – Small Vehicles Online Course
Data Privacy and Cybersecurity
Materials Handling for Construction
Aerial Lift Safety Training Video
Compressed Gas Cylinders Training Video
Construction Safety Orientation
"Workplace safety is such an important issue for every business to take into consideration," added Curry. "By providing your staff with proper safety training, you will help to prevent accidents and injuries. It's a win-win situation for companies and employees alike. We have helped many companies to create a safer workplace."
To see the full list of online safety training courses being offered by Business Training Media, visit the site at: https://www.businesstrainingmedia.com/online-safety-training.php
Business Training Media offers over 6,500 training products, including online courses in management, cybersecurity, customer service, sexual harassment, COVID-19 resources, and more. The company has provided training for such companies as Bank of America, FedEx, Verizon, Google, Yahoo, and more. To learn more or register for the course, visit the site: https://www.businesstrainingmedia.com/